Anyone heard of the 3Fap?
One year ago we told you that Brian Sloan, the creator of Autoblow –  a sex toy that simulates oral sex – was working on a new sexy toy design called the 3Fap. It is now – trumpets! – ready to buy.
What is the 3Fap?
The 3Fap is, very simply, the first masturbator with three orifices that offer different sensations – quite simply, it targets the three holes of women. Each hole is designed to feel like a mouth, a vagina and a butt – lets call them your sex holes – the beauty of it (yes, there's more!) is that using the 3Fap allows you to swap between each sex hole at ease.
The 3Fap – a Sex Toy for Men!
3fap is the first and only sex toy for men that will give you what you really want: variety. Other male sex toys require you to continually change sleeves to experience different sensations, but not 3fap! 3fap's 3-in-1 design allows you to experience 3 orifices, 3 different textures, and 3 levels of suction, all in one product.
3fap was crowdfunded on Indiegogo by more than 500 men from around the world who were adventurous enough to try something new. Now you can benefit too! Whether you choose to enjoy the standard mouth/vulva/anus sleeve or prefer the 3 award-winning vulvas sleeve, we guarantee you'll be fapping* happier with 3fap and we can assure you your review of the 3Fap will be everything positive!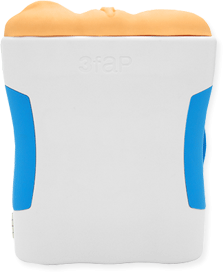 'The 3fap is a magical masturbation tool for people with a penis that allows said person to put their penis into three different holes in one handy tool,' says the product description.
'Why enjoy only a single orifice when you can switch from mouth to vagina to anus with ease? And why has no one made this before? No idea,' said Sloan when we spoke to him last year.
So Sloan created an Indiegogo campaign and created one himself. And you can buy it online here for £63. You're welcome. If you're still not sure and want to read more they have a whole host of reviews on their website or how different men have found using the 3Fap. So don't take our word for it, take thiers! Enjoy.
*For those unsure on fapping, it literally means male masturbation.
Hello, I am Kitten T the Editor of #itsakittensworld, passionate about sexual liberation and anything which encourages female sexual empowerment. I Love horses! You can follow me on Twitter for my latest views on the world of KK