Killing Kittens are delighted as always to have the hottest award winning Cocktail Master around,  Carl Anthony Brown! Carl has designed for us, our very own KK Autumn KoKKtail
KoKKtail Klub
"Autumn is more the season of the soul than of nature." Friedrich Nietzsche. The leaves are falling, brisk mornings and roaring fires for cold evenings. This is the perfect time to create some Kocktails to warm the soul. For my Kitten & I, Autumn is all about creating beautiful, tasty bottled treats to carry us through the winter and we are especially excited for our nip of choice before the KK birthday bash.
Autumn is an amazing time for a little foraging (or a trip to the supermarket). Choose ingredients and flavours that you love.  It can be basically anything. We can turn these ingredients into a bottled cocktail, ready to drink or saved for in front of the fire. November is the perfect time for Autumn raspberries & pears. . . . We are going to create a Whisky Winter cocktail.
I recommend you don't rush this drink. Make it and let each stage rest, the longer it's left the more intense the flavour. As with everything, it only gets better with age.
Recipe.
200g Pears
100g Raspberry
125g Sugar
400ml Water
500ml Whisky (Scotch for dry, Bourbon for sweet)
10ml Orange Bitters
5ml Vanilla Extract
2 Cinnamon Sticks
Method.
Peel your pears and core them.
To a pan add your water, Pears & Raspberries.
Cover with a lid and simmer slowly. (You aim to end up with just 150ml of water left)
Pour the liquid and fruit into a Jar.
Add the Cinnamon, Vanilla extract, Sugar and Whisky to the jar.
Seal the Jar and leave. Minimum Time 24hrs/ Maximum up to you (I still have one from 2 years ago).
Each day give it a light shake.
Add the Orange bitters before you strain.
Strain through a sieve into a bowl, use a spoon to press as much juice out as possible.
With the fruit that's left, cover it in custard and eat it. . . Yum Yum Yum
With the finished liquid, bottle it and keep forever. Or pour it over ice and drink.
Drinking this Autumn.
Naughty Cubby Hole –  Heads And Tails, (new opening in West Hampstead)
Filthy Party – Fingers Piano Bar, Frederich Street, Edinburgh.
What to drink this Autumn.
Spirit to Try – Jensen Old Tom Gin
Something Interesting – Spit-Roasted Pineapple Gin
Carl Anthony Brown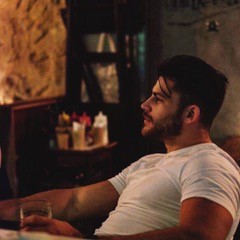 I'm always creating new drinks or reinventing old ones. My website is www.atlondoncarl.com or Instagram is @london_carl feel free to ask me any questions if you ever get stuck or if you want something special for a party.
Keep safe all & party hard
Hello, I am Kitten T the Editor of #itsakittensworld, passionate about sexual liberation and anything which encourages female sexual empowerment. I Love horses! You can follow me on Twitter for my latest views on the world of KK