Dear Kittens and Toms,
I think I have a secret of a serious nature to let loose on you.  And….and I'm wondering if you are cloaking the same one.  If you have a mirror at home– you might be.
Lean into me, snuggle up real close– and be kind while reading.
I think my body might have entered into this god-damned COVID quarantine looking really hot, healthy, and sexy– but has since emerged out the other side appearing entirely different. 
I'm not talking about Invasion of the Body Snatchers or anything like that.
What I'm trying to say is, I think I might need you to be extra alert and sensitive about how I see and feel about my body right now.  The next time we are together, I may need you to carry a bit more tenderness in your eyes and touch while you're undulating your body with mine in between the sheets, or when I'm suspended by rope (as the case may be) as we slowly climb out of this quarantine situation together. No matter how you identify, we all have bodies, we all have mirrors— and I don't know about you, but over the course of the past 6 months– my lovely fitness-bod has been hijacked and mirror-balled in a way where I can barely recognize its beauty anymore.  Its lines have been filled out in some parts, and disappeared entirely in others.  Its curves are bumpy and bulging in spots where once (only 2 months ago) I would admiringly stare in the gym's mirrors at how smoothly curved and lifted they were, like tight little capital "C" scoops. Its muscles, lean and masterfully sculpted to perfection. I do not know where this body went.  But I do know that over the course of the past 6 months– every gym had closed, and every barbell, dumbbell, kettlebell, Medizen ball, and Bosu ball had become overpriced– then Out of Stock.
Has this (any of this) happened to you, too?  
Maybe I'm talking about "quarantine 15", but –I dunno'…maybe I'm not. 
Like many of you– I started out strong!  I was a powerhouse!  I committed to my normal healthy eating habits and routine workout regiment.  I became loyal to my Instagram feed–following my fitness faves for expert-tested and approved At-Home Workouts using body weight, milk jugs, laundry detergent containers, and soup cans.  I Googled how to make my own TRX using bed sheets wedged in a door frame.  This contraption worked….for like a second. I even bought a fucking Peloton!  But, you know what?  While my dietary habits did not change drastically– my sweat sessions (and sex sessions), over time– became less sweaty.  And then the mild depression crept in like the sneaky little shithead that it is.  And to combat it– I turned to other areas of social media– the areas that market heavily and directly into your personal feed wanting all of your money.  And I gave it to them!  Honey Birdette, Marie Mur, Atelier Bordelle, Agent Provocateur…they have all of my money now.  And in exchange, I have all of their sexy, sheer, strappy lingerie.  (I know this happened to you, too!  Don't say it didn't– I've been in on your steamy little WIRE chats.  I know what you've been up to!)  I also know that, perhaps, like many of you, I was slipping my slowly dysmorphicizing body into those provocative little lingerie numbers– and in an effort to maintain a feeling of erotic allure– I snapped photos and studied them with a diseased, pandemic-lensed eye.  
A distorted one?  Possibly.  
I shoved them aside, though.  I didn't want to feel like shit.  I wanted to feel the KK way!  Empowered.  Sensual.  I wanted to still know that every body is positively beautiful!  With their imperfections– the knicks, scratches, and dents that come by way of scars, discoloration, and in-growns.  These things are there to tell the story of us and our journey.  I needed to find my way back to the path of healthy body awareness, self-love, and body positivity because somewhere, at some point during lockdown, I veered off track and lost my way.  
I remained quiet about it.  But no one else was talking about it either!  Not on WIRE, or in the news.  Not in the papers or the magazines or the blogs or the Zooms.  And so I tried to push it down even more in my head–to try and make it go away.  Maybe it wasn't real.  But it would not budge– it reverbed in my head like some sort of freakshow echo-chamber.  But in the same breath, it didn't seem to stop many of us from still playing at the hot KK In Your Home parties or during virtual play partner meetups.  Our bodies– despite their loss of tone and sculpt– still craved the teasing strokes of attention.  I got used to my new body.  I got used to how she looked when she moved in her new leather collar and leash, slinking toward the bedroom funhouse mirror on all fours, her shoulder muscles working, but less defined with each pawing motion along the wood floor.  I got used to where her skin popped out a bit through the back straps of her expensive new purchases– still with tags on. It wasn't until something happened that it really hit me.  A culmination of events, actually, that occurred only a few days ago when we were all invited back to newly reopened gyms.  
There, at my gym, I was coldly greeted by every virus disinfected mirror.  Not one of them recognized me in my dismorphisized body.  I was hurt by this.  My gut felt slashed and eviscerated in a most insufferable way I had never in my life felt before.  I was so timorously ashamed by this– I tried to shroud any evidence of it.  I lifted my masked face high, water bottle in hand– I was fixated on getting my former "better" body back.  I answered their COVID questions, they pointed a gun at my head and it took my temperature.  Determined to return to the times when I'd video my exercise routines and swap them with my handful of beloved KK connections, together– we would make J.T. proud and Bring Sexy Back from this sorry-ass, contorted COVID place; neither magical nor divine as a hedonist's place should be.  I felt a pang of readiness and willingness to open up, just a crack, about these feelings I was battling.  You know– just flip up the hem of my dress, show a flash of leggy vulnerability.  
So I decided to rekindle the workout aspect of my long-distance relationship with a beloved KK connection–one for whom I have very passionate feelings for.   Throughout every passing day of lockdown, he has become more than a Tom to me.  I felt comfortable sharing with him my most current, up-to-date workout video from that day.  
Following is how the text exchange rolled out afterwards,  thrusting me into the writing of this Open Letter to you.
Me: I'm definitely in worse shape– and I now see that I have lost muscle definition everywhere.  Want me to show you a nice leg workout?
Beloved:  Yes!  You don't look like you did.
Let me just repeat that part.  He said: YOU DON'T LOOK LIKE YOU DID. 
Let the effect of those words sink in for a moment.  How do you interpret that sentence? I, naturally, interpreted it as: You looked way hotter when we were in the hotel together, and now you look very, very, very bad.
After rolling it around in my head for a few hours. I responded–no,no–better expressed, I reacted like this:
Me: Ouch.  Well, get back to me in 3 weeks, then.   
But of course– as the universe would work, my Beloved responded several hours later like this:
Beloved: I meant- you don't look like you did…lose definition.
Now– I won't bore you with the way in which we sliced and diced the sentence in a manner to discuss grammar, tone, or whether or not the sentence could have conveyed a clearer message of intention were it to have been spoken vs written.  Or how people process the information their mind is already telling them.  No, no– I won't bore you with any of that (even though spoken speech is totally face-to-face human inercourse) because this letter is, while a serious one, still about regard and care for body image.  Not linguistics.
In fact, my point is: care.  What if after this pandemic we need to rope in and examine our regard for aftercare beyond the parameters of BDSM?  What if the concept of aftercare is to also include the care for our awareness of body and mind and how our mental image of our body has potentially changed post-quarantine?  To cast the shards of light from quarantine's mirror-balled disillusionment of our body's beauty so that it is properly nourished and restored to a healthy, positive luster? What if we might need to consider helping one another spin and tilt and shift the mirror-ball so that it discos a rainbow of light upon our post-pandemic body image, rather than dismorphisize it, and leave it there to hide in the dark? 
Let's take care of each other here.  
Just a thought. 
One Love,
A Kitten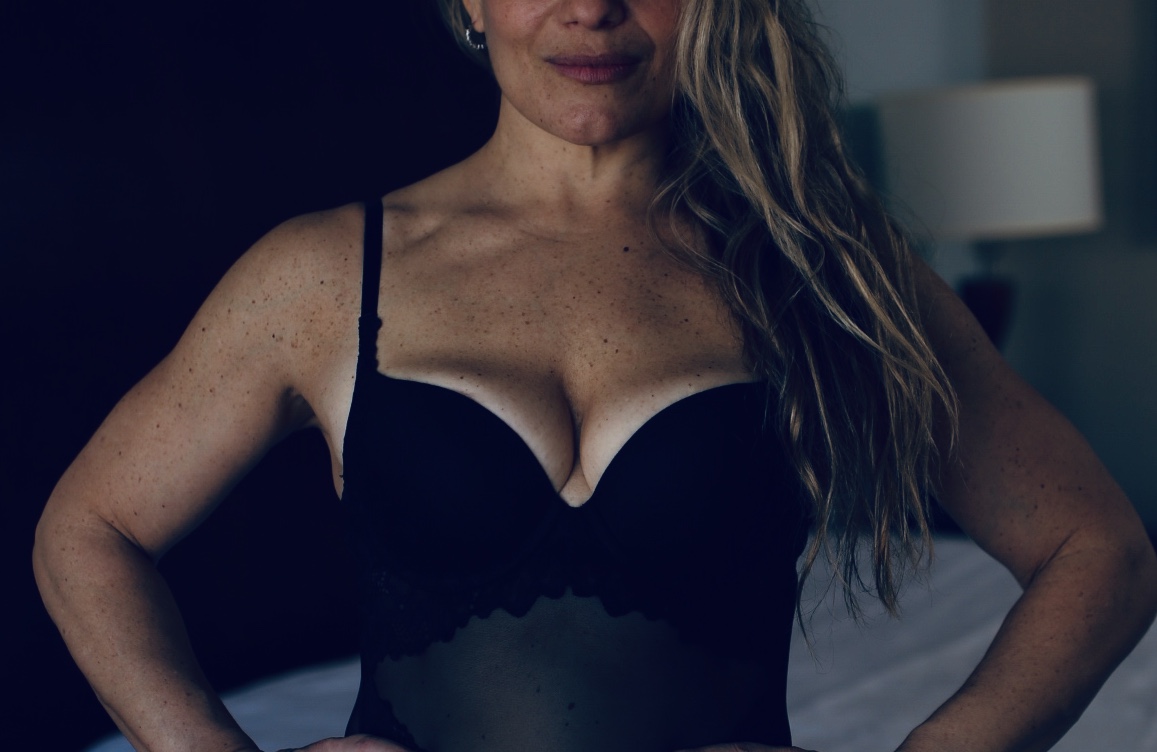 GJames is a writer of erotic audio stories for Dipsea, and other stuff.  She believes meaningful casual interactions– sexual, and otherwise– make the world GO.  In addition to writing, she is passionate about intimacy, autism awareness, mental-wellness, fitness and any combination of the four. You will likely find her blended into the background of a crowd– and quietly watching, but hopeful to connect. Her nose is always in at least 3 books. If you're someone about to throw themselves into the winds of change or vulnerability– she's gotchu'.