After a lot of comments from you guys we've decided to add an erotic stories section to the KK blog.
We get so many of you Kittens and Toms sending in the sexiest stories so decided instead of keeping them all to ourselves we'd create a place to put them all. Kicking things off we have this amazing piece from Harsha. It's her first-ever erotic story, which blows our mind because it's so good!
Enjoy 🙂
His birthday was one he would never forget…
'How does she taste?' as I glanced into his eyes touching myself and seeing how wet I was getting watching him with a beautiful sexy girl that I had met for a drink earlier.
I watched as his tongue was slowly devouring her warm wet pussy. I could see her toes curling as he inched in harder flicking her clit..she arched her back and let out a slow steep moan that made me want to just grab him and kiss him. His tongue was tasting juices that meant when he did kiss me it would make me yearn for him even more. He seemed to enjoy watching me whilst he was pleasuring her. There was no jealousy as we we're in a relationship where trust, honesty and love had been built. I felt a pang of aching where I had been playing with myself for him and the lust of a wet pool of cum was forming on the chaise.
'I want you baby' I murmured to him.
'Come here and taste her' he replied with a cheeky smirk.
I pulled out a pair of shiny metal handcuffs that were wrapped in a satin blindfold that I had bought some time ago. The cuffs glistened in the light like a rainbow, almost like a pair of new Swarovski diamond earrings. I gracefully took another sip from the wine glass next to me, a red full-bodied Malbec from 2014 that was meant for an occasion and what an occasion it was now.. slowly slipping the wine down my throat I lifted myself off the leather chaise and walked over to my partner and the sexy minx, she caught my eye and winked. I was wearing a tight black pvc dress that captured my sexy curves. My red heels clicking on the wooden floor made it more amusing for the kitten. My hair flowed down my back and was now making my nape glisten with the drops of sexual sweat.
'I want to handcuff you to the bed rails' I said to my partner, he looked at me with a mischievous grin. With that he pulled his tongue from her wet aromatic pussy and moved her to the side whilst he arranged himself on the bed and did as he was told. His hard rock solid cock was oozing precum at which I took an instant ache to lick. He let out a moan as I rolled my tongue over his beautiful cock tasting him with anticipation. I got up and wrapped the handcuffs over his wrists and gently placed them over the metal bedposts clicking them so he was locked.
'Now I'm in charge' I said to them. I could sense his eyes looking over my body as he always did when he wanted to make love to me…
'Not just yet sweetheart' I whispered into his ear, 'you can have me when I say'.
He watched as I slowly ran my fingers over the kitten's neck and kissed her, our tongues rolling inside each other's mouths tasting the precum from my partner's cock. I could see it twitching and his wrists trying to wriggle out of the handcuffs…the kitten and I let out a laugh at the sight of him trying to let himself loose on us. I slowly continued to kiss her as my fingers ran through over her hard pink nipples. I gently kissed them wrapping my tongue around them like it was the cherry on top of a bakewell tart.. she bit her lip and let out a murmur, she was enjoying it as I touched her wet pussy and felt my fingers slipping inside her.
She took the blindfold and wrapped it around my partner's eyes so he couldn't see, yet he could hear us, which made the moment more intense. I took my fingers out from her wet cunt and put them in my partners mouth, he was licking them and deep inside I knew he wanted to fuck us both.
I slowly pulled her gently on the edge of the bed and ran my tongue over her thighs she was quivering for my tongue inside her..she wrapped her legs over my shoulders as I fucked her with my tongue shuddering her body with waves of cum over my mouth.
'Stop'! she said gasping for breath. 'Oh my goodness that was so good' she squealed.
We both pulled ourselves on each side of my partner and started licking his cock, two hot warm tongues on him was making him stretch his legs for more. I licked his balls and she teased the tip of his cock
Whilst we synced with each other catching our tongues kissing each other.
'Enough'! hear him say.. 'should we'? as I look over to the kitten. I take the key and unlock the handcuffs and untie the blindfold gently away from his eyes that had been locked in darkness. He looked at me and reached for my mouth and kissed me yearning and caressing my breasts as he took to biting them I let out a giggle. Is this really happening I thought! I have always wanted this but it had to be with a person who loved me, trust was key and jealousy wouldn't be part of it or it would never work. I had to be sure in a relationship knowing he would never cheat on me nor see me as a plaything. Watching FFM just heightened the desire to share my secret with my partner.
Amidst this thought, I gently felt his hand on mine.
'Are you ok'? he asked me gently.
'I love you' he mouthed! 'I know, tell me something I don't know' I replied as I let out a gentle laugh.
I told him I wanted to sit on his face at which he immediately lay down. I straddled his face whilst he licked me and rolled his hot tongue over my clit and piercing.I wanted to cum and never stop!
The kitten took her mouth off his cock and looked over at me. 'Gently slide and sit on his cock and feel what I feel every day that I am with him'. She certainly didn't need to be told twice. Her cunt was grinding down onto his balls and with every thrust she let out a scream 'fuck this is such a good cock'!
'I know' I laughed out loud.I started to kiss her with every motion of waves coming through us. I bent over and bit her nipples as she arched her neck nearer me.
After what seemed a long time I gushed all over my partner's mouth cuming wave after wave with the most intense orgasms I now know it was time I wanted to feel him in my mouth.
I rolled off his mouth and got on my knees. Whilst I deep-throated him gagging with each thrust he pushed harder. the kitten licking the cum between my legs and telling me to orgasm again! She was good with her tongue.
As much as I wanted my partner to cum down my throat, I had a different idea.
I told her to kneel in front of him as I did and we both savoured his hard cock. 'I'm going to cum baby' he said as he looked at me!
I said 'cum hard and cum good, let her taste what I have'! with that he came hard in my mouth and as she was licking his balls. I pulled her up and kissed her letting her taste my partners cum! It was dribbling down our breasts at which we eagerly licked off!
The aroma of sex and cum was something intoxicating.
We all looked at each other and started giggling, it was absolutely mind-blowing.
The kitten got up and lay on the bed, her nipples still erect and her hair now tied into a bun. I climbed onto the bed spooning her from behind where I could cup her delicious breasts, whilst my partner went to the kitchen to get a bottle of champagne to celebrate a wonderful evening with a beautiful kitten. Upon his return we got up when we heard the popping of cork and to quench our thirst. The kitten thanked us for a beautiful evening and it was her way of saying good night. She kissed me as she shimmied her sexy ass to get dressed and to leave my partner and I to enjoy the rest of the night.
It was then I whispered into his ear 'Happy birthday darling. Tonight you will never forget'.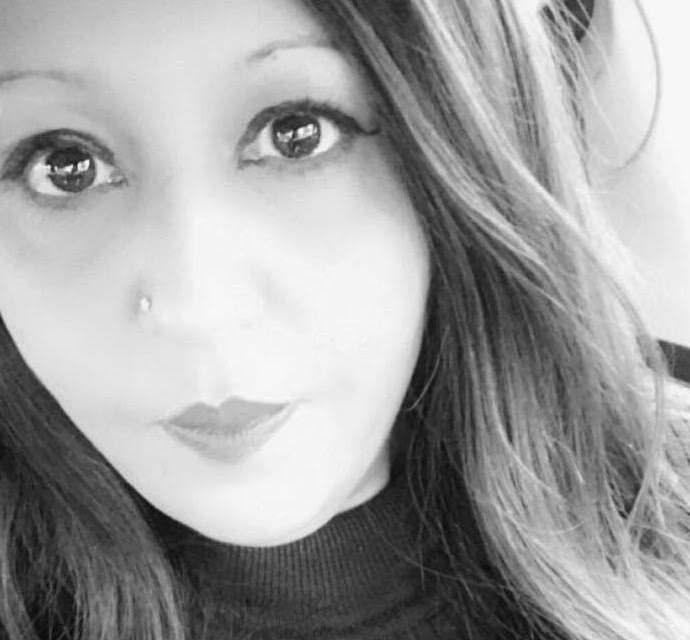 Hello, I'm Harsha and my name on KK is AsianH. I have an amazing partner who has opened up Pandora's box. I love to share my fantasies as they're sexy, fun and almost impossible not to share! So here goes to writing for the KK blog.