Pornography is easier than ever to access. I'm not saying for a second that it's not hot. I'm not saying that you shouldn't use it. What I am saying, however, is that it has the potential to negatively affect your sex life. When you've got access to sex videos 24 hours a day with screaming, squirting women and men with absolute monster cocks, it gets trickier to be just as aroused by the idea of a gentle, romantic, love-making kinda vibe. It can lead to a lack of interest through no fault of your own. Porn is great, but like everything, in moderation.
Pornography, as we all know, sets tones and guidelines that are extremely unrealistic. Be that from how sex actually feels, what everybody part looks like, how the body parts work (having hard-ons that come from a wink and last for an hour and 22 minutes) and how the orgasms work. If you feel that you or your partner has distanced in intimacy because of porn, we have a solution! Here are five things to try, but also bare in mind that you should try to cut down on the amount of unrealistic material you're watching. Fiction is great, but don't allow fiction to stop you from living in non-fiction.
Embrace your fictional fantasies!
The key word here is 'fantasy'. We know that fantasy is generally fictional, but perhaps, if your partner is game, it doesn't need to be. If you're into a certain fetish (see our most common fetish post to check whether your kink is there!), perhaps living out that fantasy will inject a certain amount of excitement and passion into your physical relationship. Whether it's a dominance/sub situation or a toe sucking thing, ensure you compromise by attempting to meet their fantasy too – within reason, of course.
Watch porn together
This sounds counter-productive, but it's actually a really good cure.  Watching porn can actually help you understand and discover each other's kinks and preferences. While it may have caused a rift, it can actually bring you closer together too. The definition of irony, right?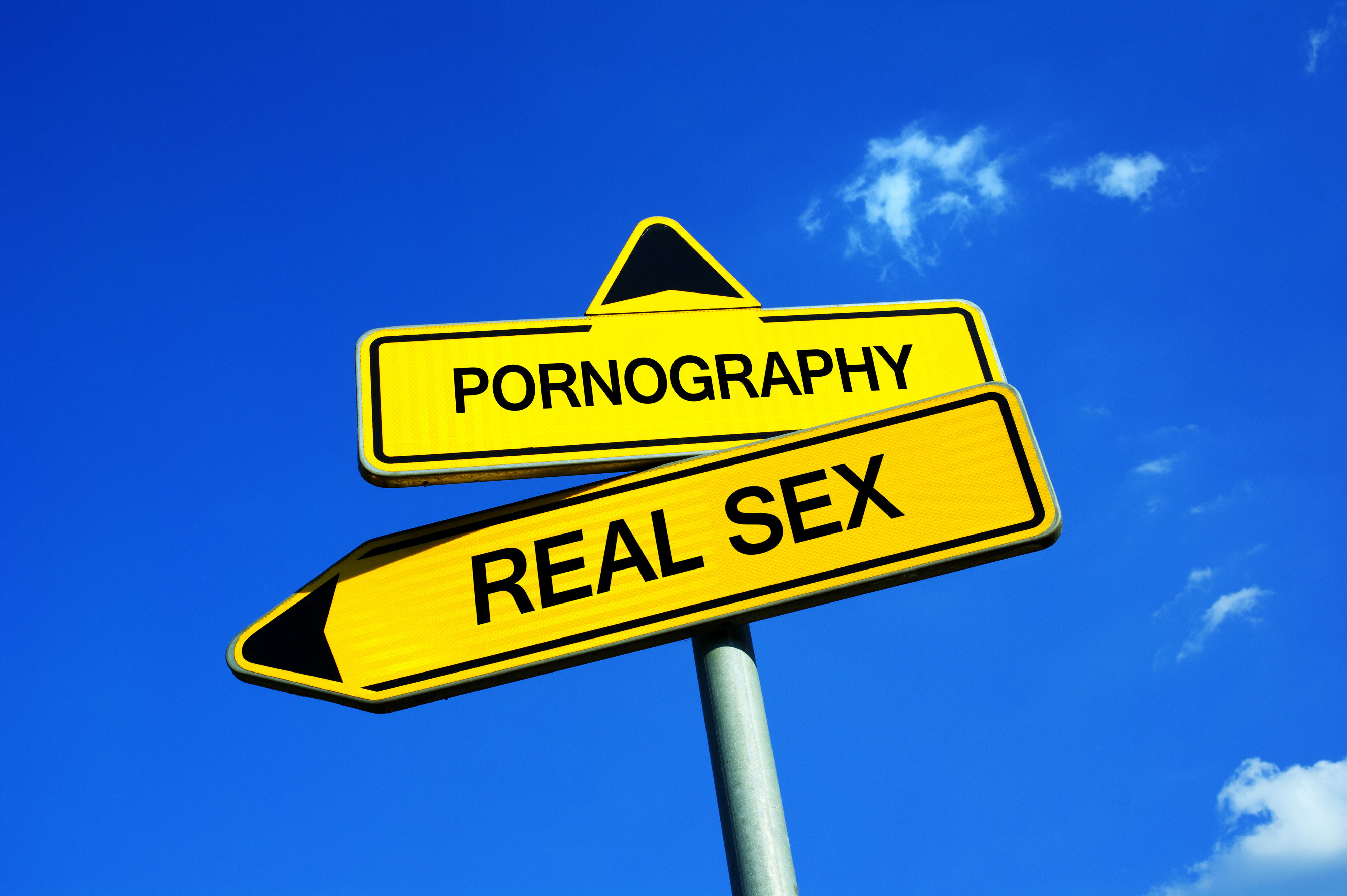 Use the 'free ride' position if you/your partner can't have an orgasm from penetration.
Firstly, please don't feel that you're strange (if you're the non-penetrative type) or that you're not pleasing your partner (if you're the giver in this situation). It's very common to being unable to orgasm from penetration. Don't get down about it after watching twenty women squirting like crazy after 2 minutes of being banged. Like I said, unrealistic expectations. The best way to mentally conquer this is to remember that even if you don't have an orgasm, sex still feels good. As long as you're not in pain, or you're getting no pleasure from your partner, don't stress out too much about it. Hop on top and experiment with different angles, depth and speed. Also, rubbing your clit on your partner's pubic bone will help you reach orgasm through clitoral stimulation whilst your partner is still inside you. Win, win!
Are you struggling with body image after watching those ridiculously toned, perfectly shaved women?
Unfortunately, this is a really common symptom from unlimited porn. Remember that those women have almost always had a load of modification to their bodies and have been made up to look like that. It's easier said than believed, though. With that in mind, get on your side and have some spooning sex. Pop a blanket on top of you and build up to feeling confident again.
Porn is not an online course to inform you how to have sex!
If your partner has completed their degree in 'how to fuck' from PornHub, chances are they won't know how to touch you in a respectful and pleasurable way. As a result, communication is key. Lay back and allow them to explore your body with their hands, their genitals, their tongue – whatever. Whilst doing so, give them very clear signals that you are enjoying what they are doing or perhaps give them a little bit of a nudge in the right direction. Try to use positive language when things are working for you. Lot's of "yes", "that's amazing", "perfect" to allow them to learn what makes you tick.
Hello, I am Kitten T the Editor of #itsakittensworld, passionate about sexual liberation and anything which encourages female sexual empowerment. I Love horses! You can follow me on Twitter for my latest views on the world of KK