Still looking on Airbnb for your summer holiday accommodation? Er, the rest of us are on KinkBNB.
What is Kink BNB?
This  'sex positive' rental site was started by Ryan Galiotto, who runs a kinky coffee shop and boutique in San Francisco, and his friend IT Executive Darren McKeeman. The concept was the result of an a-ha moment when a female friend reportedly had her listing removed on the original site because sex toys were spotted in her pictures.
The listings in over 60 cities – and growing steadily – include B&B (bed and bondage) options, traditional dungeons, DBSM training chateaus, 'normal' houses where you can be treated like a house slave or use their sex furniture, and a prison cell in Germany. The site's current favourite staff pick is Monterey Stay and Play, a place that offers 'down blankets and pillows and single tail whips. A luxurious claw foot tub and medieval iron shackles.'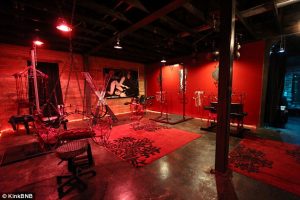 If you're still stumped for summer holiday inspiration, allow KinkBNB to titillate you with a current list of their most popular cities. Happy holidays!
San Francisco (US)
Los Angeles (US)
New York (US)
Paris (FR)
London (UK)
Sydney (AU)
Chicago (US)
Melbourne (AU)
Seattle (US)
Toronto (CA)
Hello, I am Kitten T the Editor of #itsakittensworld, passionate about sexual liberation and anything which encourages female sexual empowerment. I Love horses! You can follow me on Twitter for my latest views on the world of KK