Happy New Year. I'm sure some of you out there woke up (hanging) on the first and started the arbitrary New Year's resolution of Dry January. I hope it's going well? . . I personally decided on a slightly dryer January. Just a quick note from me aim in February is to avoid binging and ease back into enjoying a drink, if you have stopped for a while. 
Something that probably hasn't occurred to you, other than the obvious fun of inebriation, is what those alcoholic beverages give you in terms of taste experience. Your palate is exposed to an explosion of flavours that are far less potent in a non-alcoholic beverage. Your palate can sense sweet, sour, salty, bitter and umami flavours – it's very easy while not drinking to stop enjoying the full range. We all taste flavors and teach our palates. Maybe we enjoy particularly salty food or you love a super sour drink: it's important that we don't let life become too monotonous. There are some amazing non-alcoholic drinks out there, making it so simple not to drink booze but still to excite your taste buds. Luckily, it's also very easy to make an exciting drink at home.
Recipe.
75ml Beetroot Juice
75 Apple Juice
20ml Apple Sauce
10ml Worchestershire Sauce
10ml Lemon Juice
5ml Apple Cider Vinegar
5ml Ginger Juice
Pinch Cracked Black Pepper
Pinch Smoked Sea Salt
10ml Demerara Sugar Syrup
Non-Alcoholic Option: 50ml Seedlip Grove 42
Alcoholic Option: Pink Pepper Gin
Method.
This is a super simple one. You can multiply all the ingredients if you want to make a jug. Add all the ingredients into a glass first; then add the ice. Stir it well – this mixes the ingredients and cools the drink down. You really want it ice cold.
Where.
Naughty Cubby Hole –  This is such an amazing cocktail bar, located in Bristol. If you're close by you must stop in and have a naughty little tipple.  https://milkthistlebristol.com
Filthy Party –  I think I need to throw in a real classic, lucky enough to have known these guys a long time and the party here is always epic. They have just opened a new site in Clapham as well. https://www.londoncocktailclub.co.uk/
What.
Pink Pepper Gin – This is a beautiful spiced gin. Its great for mixing with vegetal flavours and Tonic. https://www.waitrose.com/ecom/products/pink-pepper-gin/753744-496198-496199
Seedlip Grove 42 – So this is such a great product for exposing the palate to some great flavours. Its defiantly one of the non-alcoholics on the market (until I release mine later this year Kittens and Toms will definitely get a taster) https://seedlipdrinks.com
Real Kombucha – This is my new  No.1,  great flavours, really healthy and if you chill the Royal Flush and add some peach puree it tastes just like a belinni https://realkombucha.co.uk
Carl Anthony Brown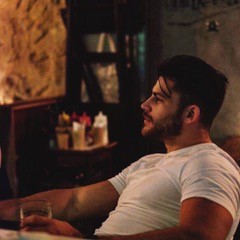 I'm always creating new drinks or reinventing old ones. My website is www.atlondoncarl.com or Instagram is @london_carl feel free to ask me any questions if you ever get stuck or if you want something special for a party.
Keep safe all & party hard
Hello, I am Kitten T the Editor of #itsakittensworld, passionate about sexual liberation and anything which encourages female sexual empowerment. I Love horses! You can follow me on Twitter for my latest views on the world of KK