Getting frisky during lockdown and sharing the horn with someone over whatsapp? Wondering how to take creative nude selfies? Getting brave and daring to post your nude selfies?
If you're the nude selfie type of guy or gal then – hoorah! Let's get creative with our nudes! – the TrickPics app from Pornhub is pitched as the 'Snapchat for nudes'. Why? Because it censors your nude selfies in a fairly ridiculous way. How about a lightsaber to cover your hard-on? Or door knockers for your nipples?
Waz a sticker over your bits! Nude Kittens take note with your vagina selfies!
'Instead of awkwardly trying to cover your nips/vulva/peen with household objects or your hands (so bloody hard),' writes Cosmopolitan, 'the app lets you waz a sticker over the parts you don't want to expose.' – vagina selfies take on a whole new direction!
The app also came up with equally ridiculous monikers for its many options like 'Hand Solo', 'D-Moji', 'Dickin-a-box', 'Knock Knockers', 'Instaclam', 'Midnight Snack' and 'My Precious' allowing you to post sexual nude selfies!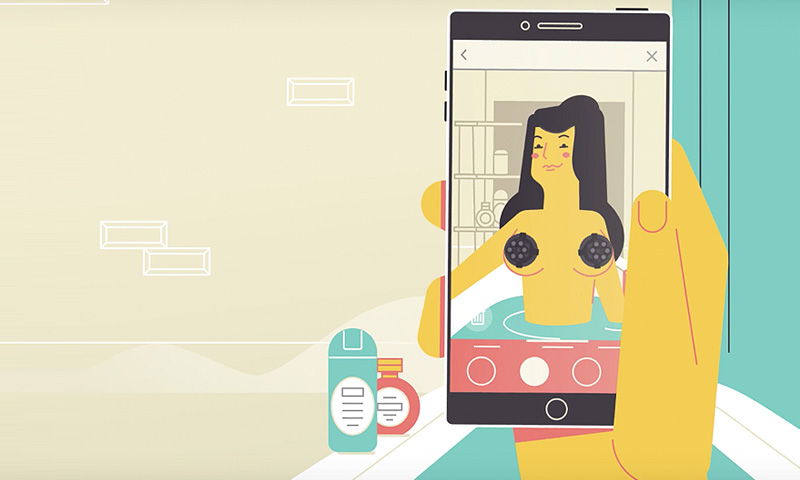 'Selfies have become a popular form of self-expression [in] today's society. They are essentially the self-portrait of the digital age, capturing individuals in all their glory,' Pornhub Vice President Corey Price said in a statement. 'Our fans can now share sexy pics with a twist, in a fun way that evokes their creativity.'
You heard the man: go forth and create. Let's get sexual with our solo nude selfies and post them with pride! 
Hello, I am Kitten T the Editor of #itsakittensworld, passionate about sexual liberation and anything which encourages female sexual empowerment. I Love horses! You can follow me on Twitter for my latest views on the world of KK