Recently, there's been lots of talk of Rose Quartz crystals and their healing qualities which is why we've decided to review the OmYoni Rose Quartz Chrystal Healing wand. 
In fact, many of my friends now have a beautiful array of precious stones sat on their bedside table. Each one with its own purpose, and magical quality. They swear that they actually work and bring love, happiness, and healing to their lives.
I'm all for natural energies and healings, I believe the world has everything we need naturally, it's just finding what does what, so when KK HQ was asked to try The Venus, a Rose quartz healing crystal Dildo, we jumped at the chance. We decided to trial this properly, so had 3 dildos for 3 very different people and tested them over a month duration. Does a healing crystal dildo actually produce positive results? Can a crystal pleasure wand work wonders where mainstream dildos haven't quite hit the spot?
The open-minded one  AKA me, (I will give anything a try, Once!). I am neither a believer or not. I'm in my early 40's, and in need of some healing. I would say I've lived most of my life in a mid-life crisis lol, a pretty happy person but always searching for more.
The Sceptical one, Kitten E is our generation Z tester. I feel like I should be into this sort of stuff being a gen Zder but I can't help but think it's a load of nonsense. I do however believe in Mercury retrograde so maybe I'm a crystaller waiting to come out. I'm excited to switch out my boyfriend for a while and give the OmYoni a try.
And the
Devout (crystals are life !) Kitten M is our millennial tester. I have a professional career in the city, which is very fast-paced and can be extremely stressful. We should use Crystals in all areas of lives, using their properties for physical, emotional and spiritual healing. I've been a believer in Crystal healing since a teenager. I'm absolutely sure that the OmYoni will enhance the self-love and love surrounding me. Rose Quartz dildos? Yoni wands? Tell me more!
THE VENUS   named after the Greek Goddess of love and beauty,  is handmade from natural Rose Quartz crystal. It is one of the most powerful and healing crystals in the crystal kingdom. This nurturing stone of love embodies all manner of love, not just romantic but unconditional love for others and for yourself. Facilitating love entering your life, through its ability to connect and raise your consciousness.
Yoni wand use
The Yoni wand is used for healing.
Simply insert the Yoni Wand into your yoni for anywhere between a few minutes to overnight. 
The healing properties of the Rose Quartz will get to work, allowing you to nurture yourself from the inside out.
What is a Healing Crystal Dildo?
The Venus is said to help you to recognise your own need for compassion, forgiveness and understanding from yourself. Associated with the element of water, Rose Quartz helps to cleanse toxic energies and release negative emotions you may have trapped within. Healing with the feminine energy of Rose Quartz stimulates the heart chakra and brings it into balance with the third eye and crown chakras.
The Venus vital stats
Unique pieces from Mother Earth that are cleansed and charged with the sunlight and the moons energy.  Made with love to pleasure your Inner Goddess, a truly amazing crystal dildo for a euphoric intimate massage.
Made from 100% Natural Madagascan Rose Quartz Crystal.
Each piece is handcrafted and polished until beautifully smooth and silky to touch.
Weighted perfectly 500g.
Measures 7 inches in length and 1.75 inches in width.
Circumference: Large end 5.5 inches and 4.0 inches small end.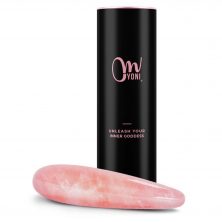 Our results
The open Minded
Let me start with receiving the OmYoni Dildo. I love the packaging, it's a cylinder box, similar to those you used to get posters and colouring pens in, deep black with candy pink writing, stylish, contemporary but fun. You open it up to a pink silk bag and inside this is the rose crystal dildo.
The first impression, I don't know what I was expecting but not this, it's so pretty, a beautiful pale pink, with swirls of paler, darker pinks and white inside, like the most beautiful smooth piece of marble. It's kind of too pretty to use inside me, it should be a decoration, but I'm worth it, so I give it a go.
I should point out, I am not a massive dildo lover, I prefer clitoral stimulation ( hence my love and slight addiction for mains powered wands) so I decide to use them both together, to give it the best chance. Firstly, the feel, it is smooth, so smooth, and so cold. Not a shocking cold, but a wonderful cold, comforting in some way, but also really tingles the senses. It's a beautiful shape, and may just be me, but fitted my V perfectly!
Usually, half-way through dildo experimentation I will abandon the dildo and go solo wand, but not this, I love it! The coldness warms slowly to a comfortable natural heat, and although it's solid, no latex, no give, no bend, it is extremely comfortable. The orgasm, well, its probably the best I've had by myself, intense doesn't even come close, so as a toy, I love it!
But do I feel better in myself?
I continue to try the dildo over the next month, with and without my wand, I enjoy each and every time, it does not disappoint, The big O is glorious. One downside I would say is that, when you are in the moment, it can be hard to grip, as its not latex, you can loose your grip quite easily, but that really is the only complaint I have, also I love that it is crazy easy to clean!
I'm not sure if it has helped me from the inside, I have tried sleeping with it, in honesty the nights it was in my bed I couldn't sleep, not restless or stressed, just not tired. I don't know if that's down to the crystal or an overactive mind, but when I took it out of my bed, I slept. I put it in the bath, I had a nice bath, but no more or no less relaxing than usual.
This month I have been using it, I am definitely happier, and I definitely feel more at peace with myself, this could be down to a number of factors, but I do feel more me than I have in a long time. Everyone is commenting that I look fresh, and I have so much energy. I have even decided to give up coffee and go alcohol-free for a month. Like I say I have no idea if the Crystal has played a part in this, but I'm going to continue using it, just in case, and healing aside, I love it!
The Sceptic
We need to talk about the packaging. I'm a sucker for nice packaging. The product could be shit but put it in a nice box and I'm sold. OmYoni has really thought about who they're marketing too, suckers like me, and I'm totally here for it. The product itself is also fabulous and so beautiful. I live with two straight guys and was tempted to leave it around the flat and I can promise you they'd think it was fancy display piece I got. First impressions, I love it, but do I want to put it in my foof?
I've only ever owned one dildo before and to be honest it sat in my toy box collecting dust because it just wasn't doing it for me. I need clitoral stimulation and this is usually via fingers, vibrators can be too harsh for me. Having said this, I was obviously willing to try this for the greater good of the KK blog 😉
First thoughts, it was bloody cold. It almost took me by surprise and I wasn't sure if I was into it, but as I got adjusted it started to feel good, it heats to your natural body temperature pretty quickly. The shape was perfect. I'm naturally well lubricated (is that the technical term) so I didn't have an issue and it was super smooth but if you're a bit dryer then you'll probably need a bit of lube. Note: Slippery when wet.
Anyway, let's get to the orgasm. It was ah-mazing. I'm a dildo converter. Preach and amen. Don't get me wrong, I still had to use my fingers for clit stimulation but it felt so intense. More intense than just using hands and it seemed to go on for a longer time. After, I took a nap spooning my beautiful little OmYoni Chrystal dildo, we are friends for life.
But do I feel better in myself?
My orgasms have definitely improved however I can't tell if my little OmYoni friend has had an impact on my moods. It's meant to help you to 'recognise your own need for compassion, forgiveness and understanding from yourself' which I can't say has been true after a tough couple of weeks for me. But what I can say is that when I've been feeling shitty I've climbed into my bed, taken out OmYoni, had an amazing orgasm and fallen asleep, waking up with a clear head. Now, this is probably the endorphins of the orgasm talking but who cares. I'm having great orgasms and I now have a beautiful looking dildo that I enjoy playing with. I can't say I'm converted to the power of crystal healing, but I am converted to OmYoni.
The Devout
I have been a believer in the properties of crystals for quite a long time now. I use different crystals for different situations, but they and the moon cycles are an integral part of my everyday life. When the KK team asked me to try the OmYoni, I was ecstatic as one of the few things I do not own in the crystal world is a dildo, and where better for self-healing than starting at the core of your womanhood.
I am familiar with rose quartz and it really is an immense crystal. It is the stone of universal love. It restores trust and harmony in relationships, encouraging unconditional love. It's said to purify and open the heart at all levels to promote love, self-love, friendship, deep inner healing and feelings of peace. Who wouldn't want that in their life?
As expected, I opened it, it was beautifully made, and of very high-quality crystal stone. The shape was beautiful and I enjoyed using it.
Of course, I believe it has enhanced my life. I'll continue to use that along with my other Crystals.
** This post has not been paid for. All of the opinions are honest and unfiltered.
Hello, I am Kitten T the Editor of #itsakittensworld, passionate about sexual liberation and anything which encourages female sexual empowerment. I Love horses! You can follow me on Twitter for my latest views on the world of KK