Here at KK HQ we like to support and celebrate our tribe and Kiko Matthews is our kind of girl. The 36-year-old survived a life-threatening tumour in 2009 and is now preparing to attempt to break a world record – rowing solo and unsupported across the Atlantic in biting January to raise money for King's College Hospital who saved her life. Oh, and she decided on the challenge having never stepped inside a rowing boat.
So why did you decide to row across the icy cold Atlantic in an attempt to break a world record?

My good friend Charlie Pitcher has the male solo record in the boat I'm using  – he makes the best ocean rowing boats in the world – and I have been following all the teams he sends off across the Atlantic. I thought, 'if they can, why can't I?'
I love standup paddle boarding, adventure, and challenges but there was no way I was going to paddle across the Atlantic, so I thought rowing would make more sense. That was about as complicated as it got! I phoned up Charlie, who apparently has been trying to get me in a boat ever since I met him, and just said, 'how easy would it be to break the female record?' And that was that. I told everyone and now I have to do it – tell the world and suffer the consequences after. No return!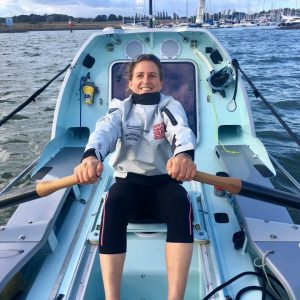 How does someone prepare to row 16 hours a day?

It's a real mental game. You obviously have to be physically capable so training is very important, but much of the challenge is about my head. I'm competitive with myself, determined and physically strong so I feel I can cope with the challenge ahead. For the time being, I'm just following a standard strength and fitness regime  – cycling, paddling, British Military Fitness, gym, and rowing in my boat in Essex. Come November, I will do a training run from Portugal to the Canary Islands, which will be 700 miles, to get me used to sea conditions.  My funding campaign, 100TOGETHER which is about having women-only funding it, also entails having women supporting me in my cabin so I won't be alone. There will always be a community supporting me.
Why is it all about the girls?

Women are designed to work together – think cave, kids, men out hunting, and women at home working together to keep the fires burning. We aren't meant to be solo creatures so while I am physically going to be solo, the whole run up to, and the crossing for the world record will be about a team of women that I couldn't do without. I'm no bra-burning, foot-stamping feminist but I do believe that there is nothing a man can achieve that a woman can't, and I want to inspire young girls to blossom into confident, independent and resilient women, capable of anything they chose. If we work together and support each other, we can get through challenges we set ourselves or unknown challenges we face in our lives. I have been single a long time – long enough to make me happy to be on my own for 45 days at sea! – but this has really taught me a lot about life, independence, resilience and the power of friends and community.
What are you most nervous about?
I'm most nervous about not getting to the start line if I don't get funded. I'm trying to run this campaign on my own. I do have some support for various things but there is so much to do, on top of trying to earn a living and train. I quite often have moments and mini freak outs when I think I may not even get to the start. Fingers crossed. As for being on the water, I do have a few worries about a night-time storm and capsizing. Death doesn't worry me, partly because I'm invincible, but if I do then at least I will go doing something I love and for a good cause.
What's the best gift that tumour gave you?
Nearly dying from a pituitary tumour called Cushing's Disease in 2009 was one of the best things that happened to me. Mostly because I now had a great excuse to never do what I hated. I've been given a second chance so I should only do what I love. I've just found out it has come back and while this is slightly annoying, I know I can cope with it mentally because I've done it once already – you learn about control, worrying and wasting energy. There are some things in life you can control, and others you can't. This whole thing taught me that, and that worrying is a pointless waste of energy. It has definitely made me live my life, do things that I may never have done, try whatever is offered, not judge people, be kind, and be extremely thankful for what I have – it could be so much worse. It has made me far less materialistic, and has made me appreciate even the smallest of things.
Finally, where does Kiko come from?
I'm named after the daughter of Japanese politician called Sakiko who was at uni with dad – he kind of fancied her a bit! Unfortunately, I don't think the impact on her was quite reciprocated as I emailed her and she couldn't remember him!
Support Kiko here at 100TOGETHER
Hello, I am Kitten T the Editor of #itsakittensworld, passionate about sexual liberation and anything which encourages female sexual empowerment. I Love horses! You can follow me on Twitter for my latest views on the world of KK