Can't find anybody to share your kink? Then delete Tinder and download KinkD, a new app that claims to 'protect you from boring vanilla sexual relationships'. Once you select your kinky preferences it will connect you with other users – of which there are 30,000 worldwide. Here co-founder of KinkD John Martinuk answers our questions.
What are the most popular kink requests? Foot Fetish and Domination and Submission. Where does a golden shower feature during dating?
Why does KinkD have a place in the world?
Jeffrey Cheung, one of our co-founders, came up with this idea. His sex life became dull after he had been with his wife for some years. They tried different things to make their sex life exciting again. He came across a BDSM video online and it piqued his interest. He watched it, then decided to share it with his wife. They grew more and more curious, did some research, and eventually tried it. Jeffery says it's the best thing to ever happen to their relationship. Since he has had about a decade's worth of experience in the dating industry, he decided to create a kinky dating app to help kinky people connect with each other and other people explore kink more. I jumped on board shortly after.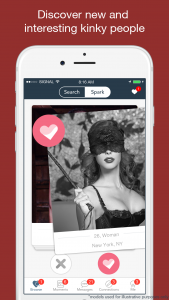 Do you know of any successful hook ups romance or otherwise?
The app launched just a short little while ago, and while we are seeing people match up, we feel there's still more time for solid relationships between members to grow.
One of your mantras is to 'make sex life great again'. What is today's biggest passion killer?
Lack of communication. Some people are afraid to open up to their partners about what interests or excite them, so they don't talk about it. In turn, it creates borders in a relationship and sometimes can lead to the failure of them as well.  Also, the flipside is being overly accommodating to your partner. We believe that going at your own speed is not only a good thing, but helps people safely explore new ideas without feeling like they're in over their heads.
What is your ultimate vision for the app?
To expand and bring in more users globally. We feel by the growth of the user base, we can hopefully also give more people a chance to explore their desires, and better represent themselves in a relationship. We want the app to appeal to kinks, unusual kinks if that is what is being sought.
What is the most unusual kink?
It's hard to say what is the most unusual. I'm going with Golden showers – golden showers whilst dating your kink? If your wife likes a golden shower…embrace it if that's your thing.
http://kinkdapp.com/http://kinkdapp.com/
Hello, I am Kitten T the Editor of #itsakittensworld, passionate about sexual liberation and anything which encourages female sexual empowerment. I Love horses! You can follow me on Twitter for my latest views on the world of KK