We have been fucking from across The Atlantic on WhatsApp for about two weeks now. He is traveling to New York City on a direct flight from London so that we may probe and explore and taste one another, finally. I am standing outside of the cafe that is next door to The Marlton Hotel where we will passionately pound one another into a pulp of oblivion, in the actual flesh. I am plump with his attention, ready to burst at the seams. We have only 24 hours together. Tomorrow afternoon, he will jet back to the UK, I will drive back to New Jersey– each of us back to our families. What are we doing?
It all started with an apology. A KK text chat apology. I was there to explore my own sexual boundaries and inhibitions after growing bored in my bed of 15 years with a wonderful man I used to love. It was the 11th of February 2020– a decade with a name. Assuming little would follow, I had apologized for feeling a strong attraction toward Seel888, but not sharing the same geographic coordinates in order to feed my attraction for this hot Tom.
Click– next, click– next, click– next, click–….stop. A black and white photo of a composed man in a jacket and fitted work shirt. I don't know what it was that made me freeze on him. His wonderfully structured head of curls? His phone held up horizontally by his gorgeously large hand, hiding his eyes behind his want for discretion? I wondered what they looked like. Would they match the intensity of his chiseled jawline and hard chest? I wanted to trace my finger along that line that formed beneath his bottom lip. My mouth wanted to pull down that lower lip– and give it a gentle suck, a playful nibble. I wanted to lower that phone with my wrist– and know. Who is he?
GJames
My apologies– I know you're a long way across the pond– but I was just browsing through and found myself caught stuck on your profile– curiously wondering about the shape and expression of your eyes beyond my obstructed view. Can you help me with that?
Seel888
Don't apologise! I love your profile text. Are you a writer? Here is a photo with my eyes in.
And there they were. Earnest, intense– and familiar to me. Cool and gray. His eyes evoked my interest in such a powerfully irresistible way– like– like I've looked into them before. Like I've spent time with them before. Like we've known one another before– in some other distant time and place. As if we'd shared something amazing before. A past life–natural and untied and free and harmonious and safe together. Like we were a symphony, once.
GJames
Fiercely gorgeous. I am. I mean YOU are fiercely gorgeous, and I AM a writer.
Seel888
Lol. Don't worry. I had taken that understanding. Not: "Fiercely gorgeous, I am." Although, of course, you are.
GJames
Tell me more about you. Just a tumbling out of words that describe what makes you GO. What drives you– motivates you?
`He told me about how experiences make him GO. Things he's never done, things he's always wanted to do, things he wants to get better at– living life to the full and enjoying the journey, he told me. He enjoyed people– women in particular. Women who strike a balance of being the same as him in some ways, and opposite in others. He values the privilege of intimacy. A shared secret. A closeness. A new exploration together. Seen and felt partly by himself, but also with someone from a different background, with a different history, he expressed. Then he attached a shirtless photo of himself. His upper body carved into expertly trained muscles. He worked hard there and I was all too happy to see it, because–so do I.
In two weeks time, our text thread grew. It could have reached the moon and back for all I knew– we were constant throughout the day– as if right next to one another. Comfortably connected. Sharing childhood stories, and exchanging photos–sexy photos, photos of me where I'm flat and where I'm round in all the right places, photos of me in new strappy black lingerie, photos of me anchored on all fours with my back arched and ass sitting high in the air for him, smooth skin, firm muscles, hair flaxen and willowy. Photos from high school, photos of close friends, photos of him wearing glasses, photos of him not wearing glasses, photos of his new Ducati, photos of childhood relics found in old storage boxes, photos of where we've been, and photos of our lives now– with our children. We shared fantasies, and videos of me fingering myself, videos of him attempting what he called "press ups", videos of me doing fitness and track workouts, videos of making pancakes, and videos of our family dogs. We swapped confidential affairs, and created secrets of our own together, too. We talked dirty to each other. Intimately dirty. We'd make each other cum then send photos of cum-laced fingers and licking them clean. Together, we traveled through a 90's time warp holding hands and, eventually, a Spotify playlist was originated in honor of us, titled: 90's Rewind Commute: Shoulda' Been Us and it would include Sabotage and Intergalactic by the Beastie Boys and Little L by Jamiroquai. We became bonded. Over text we would kiss, fuck, grip, press and hold. We would grind, writhe, sweat, slink and suck. I'd hold my breath and cry out, "Baby, please?!" begging him to let me cum until he granted me permission. He would cum inside me– deep, holding, rasping, pressing harder, pelvic bones bruising and grinding harder still.
From the airport, he texted:
Seel888
Running behind. Got pulled in by an immigration officer!
No doubt suspicious of this British man's honest story about flying over to the US for a one-day visit to see "a friend" that he'd only ever met on a women's sex liberation website.
Seel888
They had asked me for your surname. I don't know it– so I made one up!
He scrambled his best lie: Sanchez. He said he thought it sounded like it could be a common enough American name — but I think the idea was more likely born from his fondness for American sitcom shows like The Brooklyn 99. Either way, I didn't mind having a new last name because he'd just been cut loose ahead of other less fortunate "terrorist suspects", and soon, I would be encircled in his arms for real.
I took a seat inside the cafe and ordered a bottle of water. My abs were pulled tight, my pussy contracted. I was holding it together– but the anticipation of him was fizzing over inside. To smell him, recycle his breath, and feel the texture of his skin rub up primal and slick against mine, creating a new, shared scent together– was my single compulsive desire. Facing out onto W. 8th St., I took a sip of water and settled as best I could. Just around the corner was Washington Square Park–NYU territory. The surrounding energy matched my bubbling insides. I'll be able to see him step out of his Uber as he enters The Marlton, I anticipated. My mind was racing with all the everything we had promised we'd make happen to each other. I had my overnight bag ready at my side. In it: lingerie, heels, minimal make-up, restraints, toys and my lucky pair of dice chiseled from green onyx. They were tucked into the side pocket in a black velvet drawstring pouch. As I felt around for them, I saw the profile of his tall frame, all 6'4 of it, unexpectedly walk past the front cafe window. He did not see me. He was Scandinavian modelesque wearing a navy blue jacket with red piping along the collar which he wore popped-up. His slim jeans fit him right. His Nike Internationalists, with yellow on them, tied it all together, something my kind of style. The eyes. The curls. The perfectly shaped nose. The broad , strong, squared shoulders– and the pronounced erectness of him. He was headed towards the hotel and I wanted to run to him but I was not breathing. My body–frozen. My mouth–gaping. My eyes–squinting. My pussy– deluged with wetness. I shifted my weight in my seat in order to even the wetness out. He excited me. I grabbed the handles of my bag to head over to the hotel bar. There, I would wait patiently for his ready signal.
The butterflies began to flit in my belly, but not long until the green box on my phone screen chimed.
Seel888
Should I come down now?
GJames
Yes. I'm here. By the side of the bar.
Seel888
Are we still going with the wordless kiss plan?
We had agreed to a playful game where we would not exchange voices, or spoken words of any sort until after we tasted the depth of our first kiss. I did slightly bend the rules several days earlier when I had discovered that we'd both played trumpet as children, and so I sent him a video of me fingering the valves of my air instrument to the C major scale. But it wasn't really my voice. Only humming. It didn't count.
GJames
Yes.
Seel888
Ok, but there will be smirking.
GJames
Yes, of course–lots of smirking. And eye-fucking. I hope you think I'm as hot as my hot sister. I have butterflies…
Early on, I had made a joke that I may have been sending him pictures of my hot sister as a stand-in. He thought this was cute. And this made me feel special. It also made me wonder whether we might become ephemeral one day–unable to sustain a digital life of togetherness. That we were like two flint stones that spark ingenuity for the time being, but then the spark burns out slowly and distant over time– and through no fault of the other.
Seel888
I'm sure. Calm those butterflies. Coming down now.
The worry, itself, became ephemeral when he appeared before me there. Tall and gorgeous and glowing with a glimmer of You, Genevieve, Are Everything I've Ever Wanted . We walked toward each other, this stranger and I, as if we had been lovers for a lifetime. We knew not the sound of the other's timbre, pitch, intensity or loudness of voice. Whether one of us spoke with an upspeak, or a lisp– where we paused between words to draw in air. All of it, mystery until we unlocked mouths. Our eyes grinned greedily. We pulled one another in, and kissed into a full perfection. Like a slow game of Tetris, our lips fit snug and matched tempo. Our contours suctioned tightly together at the right places, loosened for an appropriate amount of tongue flicking and curling. They dislodged with timeliness back into a breathy nose-clasped kiss. His breath was something leafy green and manly-fresh with a splash of Mezcal. Together we were lush. I felt him swirl the small of my back with his long fingers as he pulled me deeper into his pelvis with longing. His arms were strong– his body hard. We exchanged and recycled one another's air on heavy. His hand slid down the curve of my lower back onto the roundness of my ass where he soon placed one finger, stiff with pressure, in the crack of my ass over my jeans. He gave me a confident squeeze as his other hand palmed the side dent of my other ass cheek. I am now wet with impatience, his cock is hard with anticipation. We make for the elevator. Room 803. Our private cove of love-making until morning.
There in that room, he left passionate red marks on my skin. Trying to hold in his grunts, he slipped out noises, releasing something sexy and animalistic. Then, he kissed me with care. Gently. Still inside me. Breathing deep. Humid mouths. We kissed until he softened, listless and wet but warm in one another's arms. He slid out slowly, wet spillage between my legs. Thighs slippery. I confessed that I loved him with an open hand. And he confessed it back.
Too soon came the time to kiss and part. We retreated back to our vanilla lives. We continue to meet in our growing garden of green text boxes where we have scattered and sown the seeds of Room 803 in our secret patch of digitally encrypted soil. We water it with our fantasies and hopes for it to bloom into something sustainable that will nourish our wants. Something for another distant time, in another distant place–perhaps, even– another distant dimension.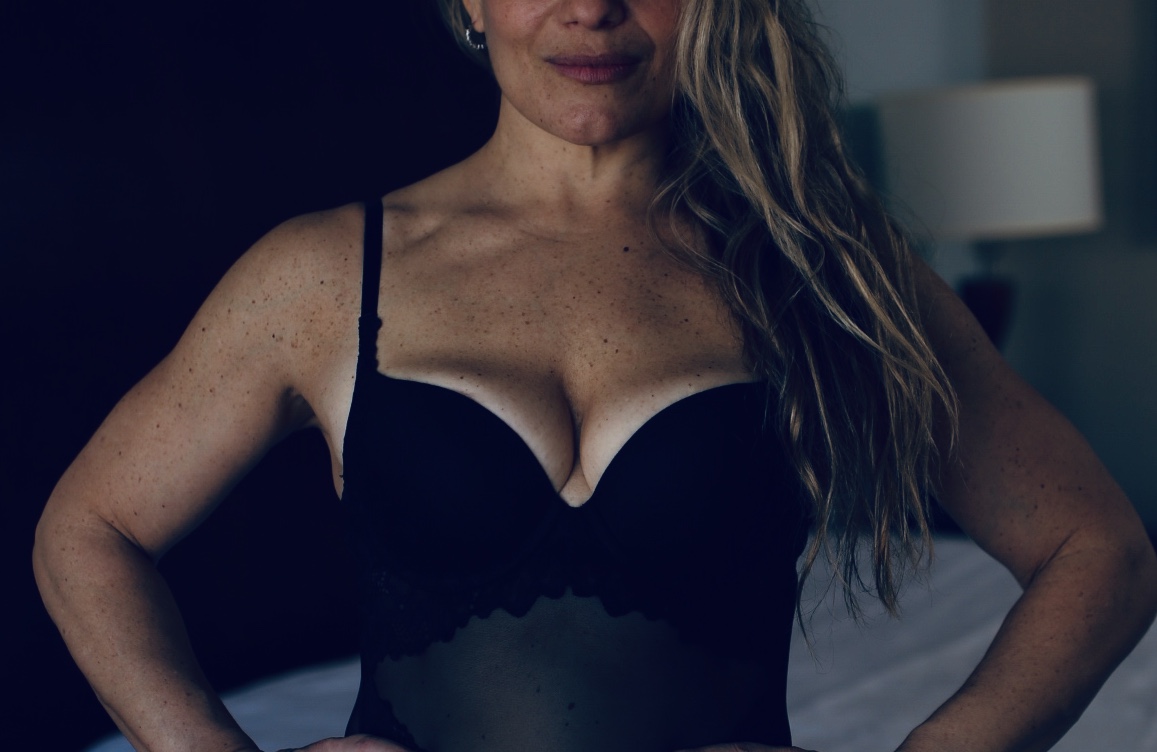 GJames is a writer of erotic audio stories for Dipsea, and other stuff. She believes meaningful casual interactions– sexual, and otherwise– make the world GO. In addition to writing, she is passionate about intimacy, autism awareness, mental-wellness, fitness and any combination of the four. You will likely find her blended into the background of a crowd– and quietly watching, but hopeful to connect. Her nose is always in at least 3 books. If you're someone about to throw themselves into the winds of change or vulnerability– she's gotchu'.