Welcome back to drinking…. Happy February. So let's ease you all back into a drink. Back in the early 1900s people were regular hard liquor drinkers (who wouldn't!) but it really took its toll. Is it OK to have brunch and drink Gin Martinis? Well, maybe, but a lot of people started wanting to enjoy something a little longer (so to speak).  The steady day drinking cooler for the marathon session. 
Charles Dickens, in 'The Life and Adventures of Martin Chuzzlewit' (1843-44), reacted to his first Sherry Cobbler, with a scene that sums up the 19th-century sentiment around the drink:
"Martin took the glass with an astonished look; applied his lips to the reed; and cast up his eyes once in ecstasy. He paused no more until the goblet was drained to the last drop. 'This wonderful invention, sir,' said Mark, tenderly patting the empty glass, 'is called a cobbler. Sherry Cobbler when you name it long; cobbler, when you name it short.'"
Now, a cobbler is a simple drink: orange slices, white sugar, sherry or wine, crushed ice and possibly a dash of soda, all churned up. Drink It through a metal straw and you're in a happy place. I've been working on variations of this for years and its a true drink love of mine. Low ABV but amazing flavours. Have a go you will love it.
Recipe:
Syrup
2 Orange rind
1 lemon rind
Juice of 2 oranges
Juice of 1 lemon
200g sugar
Cocktail:
40ml Syrup
50ml Manzanilla Sherry
30ml Tonic water
Method:
For the syrup, peel the oranges and lemon. Put the rinds in a bowl with the sugar. Knead it to release the oils, get as much flavour out as possible.  Now add the juice and put in a pan on the stove. Heat on a low heat and stir until the sugar is dissolved. Then bring to the boil until 25% reduced. Leave to cool and you're done. This will keep for a couple of months.
For the drink, measure each ingredient into a glass or tin to stir in. Fill with ice and stir briefly. Then strain this off into a wine glass and enjoy.
Where. 
Naughty Cubby Hole –   Coupette – So I'm just going to say one thing and that's the reason to go… "CHAMPAGNE PINA COLADA"
Filthy Party –  The best late night party!  Elcamion Cocktail Bar
What.
If you love making a sour drink? You need to try this https://www.masterofmalt.com/pisco/sv-miguel-torres-sa/pisco-el-gobernador/
Carl Anthony Brown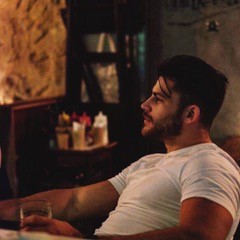 I'm always creating new drinks or reinventing old ones. My website is www.atlondoncarl.com or Instagram is @london_carl feel free to ask me any questions if you ever get stuck or if you want something special for a party.
Keep safe all & party hard
Hello, I am Kitten T the Editor of #itsakittensworld, passionate about sexual liberation and anything which encourages female sexual empowerment. I Love horses! You can follow me on Twitter for my latest views on the world of KK