When Hot Octopuss said they would send me the Queen Bee sex toy I was exceptionally eager. I mean, have you seen their website? Edgy, punchy, a bit of attitude – in conclusion: everything I love! So, I waited with bated breath.
Who is this Queen Bee and How Can she Impact my Sex Life?!
The Queen Bee arrived, and the packaging of the product perfectly mirrored the website: high quality, luxurious, but not overly girly, harmonising with that same punchy attitude that Hot Octopuss is known for. I absolutely could not wait to see what sting this bee had!
As I opened the packaging, it became evident that the toy itself is a strange looking one. Almost like a hairbrush but (thankfully) without the bristles. It's chunky but not heavy.  The charging point is modern and while it took me a while to get right, a magnetic charging point actually seemed like a bloody good idea – one that will revolutionise sex toys; plus I also felt incredibly smart when I finally discovered it's whereabouts (I'm sure I've heard some Toms say that before…). No one would know what the charging point was for (hence my mission to find it) and it looks pretty awesome. It was time to test drive this bad girl.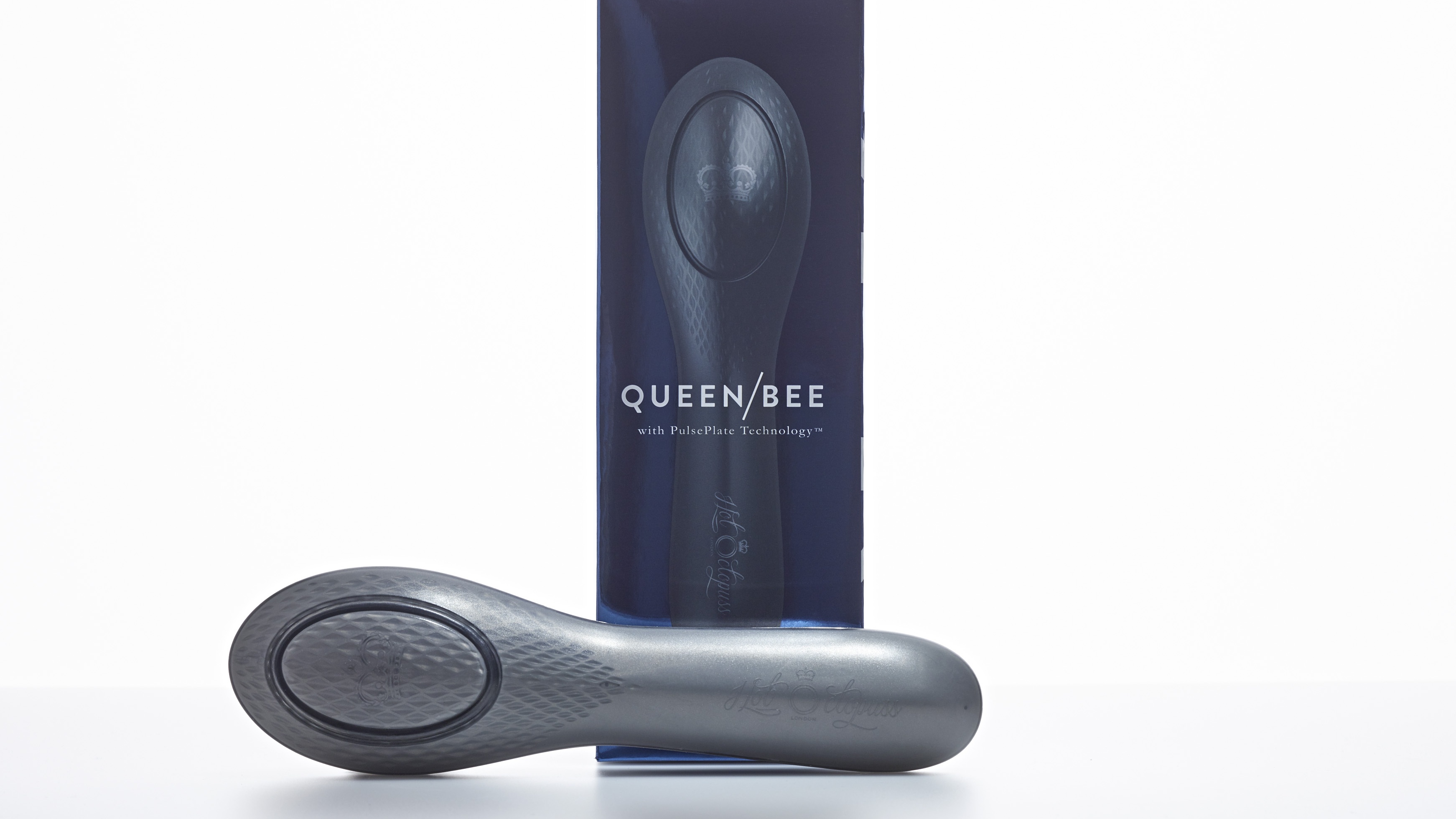 House to yourself?
My initial and the most profound first impression was the acoustics provided by the Queen Bee; and shit! This thing was loud! This is certainly not a toy to use while the kids are home or your parents are downstairs, but that being said: we all get the house to ourselves sometimes, but maybe this one is better fun out of the house, I mean the noise would simply blend in at a KK party!
Originally I was under the impression of it being another mediocre sex toy. Nothing particularly special, and something that contrasts between the mains powered wands that I have become accustomed to. But, I reminded myself a change is as good as a rest.
It became obvious during my test drive with the Queen Bee that if you like a firm and strong amount of pressure, then this toy probably isn't suited toward you. Nonetheless, this is not a wand and you need to treat it differently. If you're more gentle with yourself and try a lighter touch, then you will enjoy the sensations given by this toy. If you press the toy against you and give it no room to move, then the motions are very limited. But, as I said, if you try a lighter touch, then there will automatically be more room for the plates to move, which will ensure you build your way to the pure pleasure of Queen Bee orgasm. The great aspect of this toy is the weight or lack thereof. This toy is super light, which in my eyes is a positive thing – no one wants to be struggling to hold their toy in place- it shouldn't be a workout.
The two sides of the Queen Bee
All in all, the first time of using this product was a highly positive one. I won't lie, this won't be for everyone. It's kind of got that whole Marmite effect where you either love it or hate it, but I'm on the lovin' it scale. With two different sides to the Queen Bee, one allows you to 'warm up' with a gentle massage (be aware that this is very, very light – relaxing? Yes. Arousing? Perhaps), and then to flip it over and be exposed to the textured side (yep, fully textured for your pleasure). The vibrations were unusual too – it's not a simple vibrator that you're used to. It uses a 'tapping' motion, and while this is something I haven't really heard of before, it certainly hit the spot. Using an extremely rapid motion fashioned by the piston working the pulse plate ensuring it moves up and down at unbelievable speeds – that absolutely was a highlight for me.
Another benefit to this product is the fact that it's completely and utterly waterproof. While I said that this thing causes a racket, under the water it's not as loud, and everything is sexier in the bath. And it's also incredibly easy to clean afterward too, which we know is super important!
Hot Octopuss for almost everyone
Oh! And a super cool benefit to this product is that it's appealing to such a large range of people, be those people defined by relationship status or sexual needs. By learning and considering their most popular products, they moulded this PulsePlate technology from the penis stimulation toys to slip into a clitoral stimulant which is free from anatomical bias, relationship status, and gender, so everyone's a winner!
So, would I recommend this product? Yes, I absolutely would! Taking into consideration the way this toy works, I don't feel it should be restricted to the side of the bed, this is a toy that can be shared. Once you have learned how to use it to its full potential, its the perfect party accompaniment (Kittens get shopping for Clittorati ). If you prefer your touch a bit stronger jump straight into the highest setting,  A lot of people cut to the chase with sex toys and jump straight into the deep end anyway. A major thing to consider is the fact that, as I said before, it is very loud, and there's no getting away from that. People will know what you're doing, so consider how often you can use it (although I'd say it's well worth it!). I'd also say that the stimulation of tapping feels a hell of a lot different to what you might already be used to, and this may take some adjusting, but take the time and learn the adjustment, and you will truly fall in love with this Queen Bee. This is a completely different sensation, and while we know what we like, and some enjoy sticking to it, as pointed out previously: a change is as good as the rest. And while it's not the cheapest naughty toy on the market retailing at £99.99, it's well worth it and will open up your eyes to a whole different world of pleasure.
Hello, I am Kitten T the Editor of #itsakittensworld, passionate about sexual liberation and anything which encourages female sexual empowerment. I Love horses! You can follow me on Twitter for my latest views on the world of KK