Threesomes Are Never Black and White…
Killing Kittens creates a place where people can sexplore their desires and fantasies can become reality. This is the case for Kitten J and Tom J, since joining KK they have explored their sexual boundaries leading to their first threesome, and we are lucky enough that both of them have shared their tantalizing accounts of that meeting.
Part 1 of this blog is Kitten J's account of their threesome – would we be having sex in front of a crowd?
My husband, J, and I have been in a deeply loving relationship for 10 years. We have always been very open and honest with each other, sharing everything including our fantasies – from threesomes and couple swaps to bondage and voyeurism. Up until recently, it's been just that – a fantasy. Yet a few months ago, we decided we should do something about it so we found ourselves joining Killing Kittens to find like-minded people with whom we could connect.
Fast forward a couple of months, and I had a meet with a Tom. This Tom is a Dominant and he enjoys playing with ropes…among other things. We chatted for a while and I agreed to let him tie me up for fun. We discussed safety, aftercare, safewords, and limits. He tied me up and we shared a kiss but he didn't push me any further than that. I could tell that he wanted more but he respected my wishes as I felt I didn't want to do anything more intimate without J.
It was hot though and this Kitten most definitely wanted more.
As soon as I got home, I told J everything, complete honesty from being tied up to being kissed, to being turned on by it all. His response was
"OK. You know I trust you but before you see him again, let me meet him and if I get a good vibe from him…do you want to ask him to be part of a threesome?"
Of course, I answered yes!
I arranged for us to meet up that Friday. Tom had no idea of our intentions, he thought we were just meeting to give J some peace of mind and to reassure him that he wasn't a threat or danger. I had absolutely no idea if J would like him and it was hard not to get too excited. I kept reminding myself, things probably won't go any further than a meal out as we've only talked about our fantasies so far. When we finally met up, everyone was courteous and polite. J and Tom shook hands and he gave me a hug. We ordered food and chatted about our daily lives and interests. Towards the end of the meal, J still hadn't mentioned anything and I presumed it was probably a non-starter. I tried not to feel disappointed and reminded myself there would be other opportunities, we are part of KK after all! After dinner, we made our way back to the car park and the conversation started to lul, but as we reached Tom's car, J suddenly turned to me and asked,
"Do you want to talk to Tom about what we'd like to do?"
I couldn't help myself break into a huge smile, I could hardly believe it. I suddenly felt slightly shy, nervous and embarrassed to have to explain to Tom that we had been sharing a fantasy of having a threesome with another guy and whether he'd like to be that other guy. The moment I finished talking, the thought hit me that just because he showed interest in me, that he might not want to have a threesome which involves another guy. Aren't most men's fantasy of a threesome centered around them with two women? However, he looked into my eyes and replied,
"Yeah. That sounds like it could be fun."
We started discussing the details and arranged for it to happen the following Saturday. Both J and Tom made it clear that they're straight and only wanted to play with me. My heart thudded crazily on hearing this. I could not believe this was happening.  We continued talking about what we wanted to happen. Tom expressed he would like to tie me up again and I desperately wanted that too. J explained that though he's not into anything particularly kinky, he would be more than happy to just watch and join in when we started having sex. We all agreed and sealed it with a kiss. Right there in a public car park, I kissed my husband, before kissing Tom.
The Buildup to our Threesome
For the rest of the week, we continued to talk about it. No matter what task or chore I was doing, my mind would wonder, totally distracted by our impending meet. I tried not to dwell on it incessantly but it was all I could think about. J and I both had our reservations, would we actually be able to through with it? After all, fantasy and reality can be very different. Questions of what if either of us doesn't want the reality when it's actually happening? Yet every time we tried to talk about it, we would end up having sex. By Tuesday, J banned us from any further orgasms until our meet, assuring me it would make us more excited and distract us from our nerves.
I continued to make the arrangements with our Tom. We all made an agreement that if any of us were unhappy and wanted to stop, then we stop! I knew I couldn't enjoy it if J found it upsetting to watch. Though secretly, I was hoping that wouldn't happen. Finally, after what seemed like a lifetime, Saturday arrived. I hadn't had an orgasm since Tuesday and I had never been so horny and tense in my life. Honestly, the number of knickers I had to change! I packed my little black dress, stockings, lingerie and everything else I needed. My favourite shower cream smells like a sweet shop so at least I was going to smell good enough to eat if nothing else. J  booked a suite at a London hotel and we arrived a little early to get ready. I had just finished applying my makeup when there was a quiet knock on the door. J opened the door and in walked our Tom. He looked over at me. "Wow. Very nice." He said appreciatively.
The Meet
The three of us sat down at the end of the bed to talk things through and check we were all on the same page before anything happened. Although J shares my fantasy about a threesome, he wasn't sure if he might have a change of heart when things got started. We both reassured him that, if that happened it was fine. We agreed on using the traffic light system, if any of us hit a limit, we would say, "Red", and everything would stop. No pressure. No questions. No guilt. J feeling reassured kissed me and looked into my eyes and told me to enjoy myself, he would be sitting and watching, and if he felt comfortable, he would join in. Then with a final kiss, he backed away.
I turned to our Tom and he stared at me for a moment. We shared a kiss before he started to take things out of his bag. He laid everything out. Ropes, flogger, pinwheel, paddle, things I didn't even know the name of. He explained what they were and how they are used. I started to sweat, my already racing heart beating a little bit faster. He started to unravel the ropes. Stepping behind me, he roughly pulled my arms behind my back. He pulled my hair back and gave me another long lingering kiss from above. You OK?" He whispered. "Yes," I whispered back.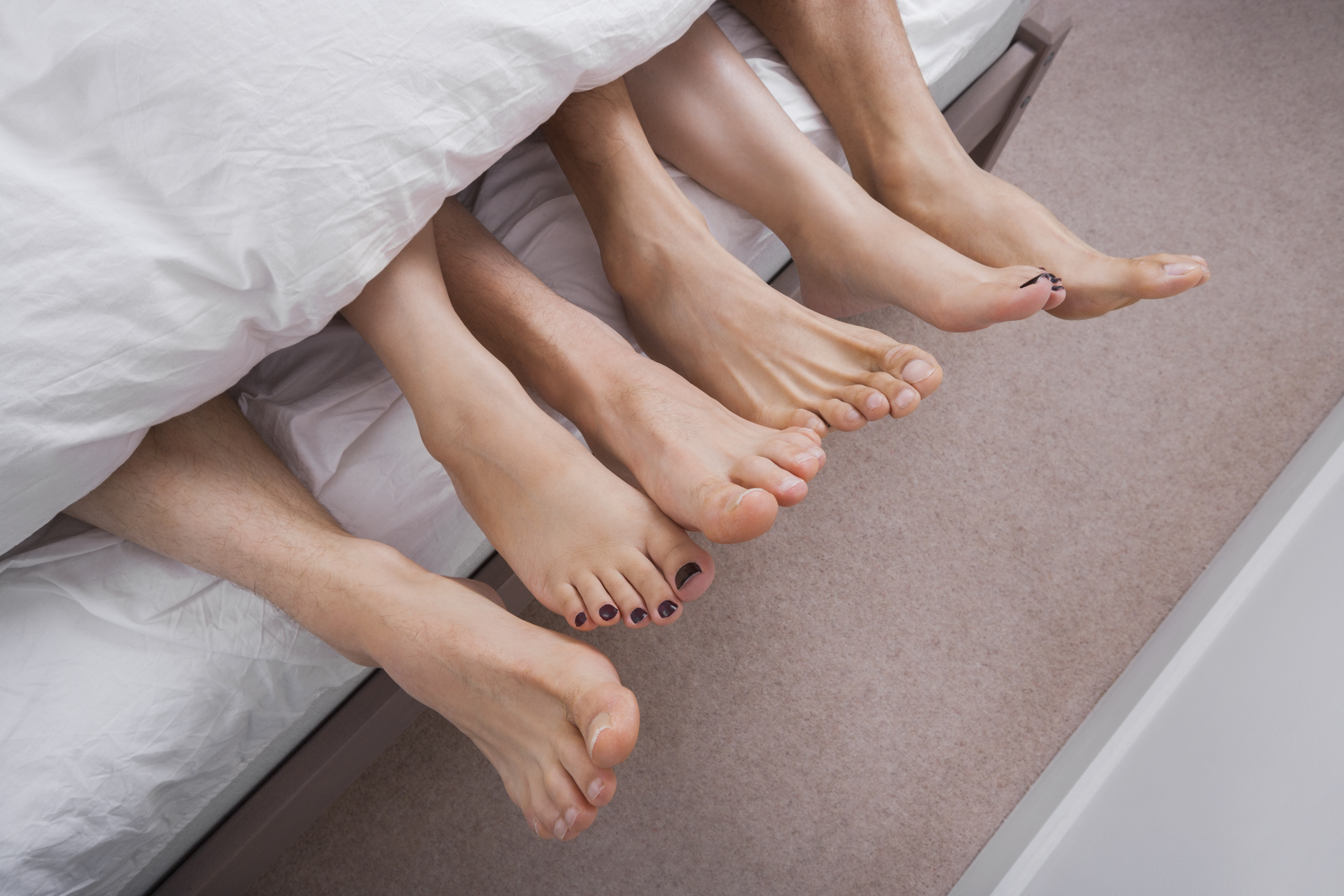 He continued to tie my arms behind my back, and dragged the rough cord across my neck, then tied the rope above my breasts, then below. Occasionally, he would grab my breasts and squeeze them, pinching the nipples and making me gasp. I was fascinated with the ropework crisscrossing my body. When I finally looked up at J, he was sitting on a chair, watching and smiling at me reassuringly.
He carried on tying me. I was laid on my back. My legs bound together. Tom was aware that I hadn't been touched down there for most of the week and he was enjoying teasing me. I felt desperate to cum but  I also wanted to wait. He reached over my body and starts using his flogger on me. He gently flogged my chest then turned me over and began to flog my bottom. I began squirming under him, flinching and gasping with each contact but unable to protect myself from his onslaught. Suddenly I panicked, what did this look like from Js perspective, was he ok? I just managed to catch a glimpse of him and saw he was watching, touching himself and instantly, my concerns melted away.
I began to think that I had reached my limits when he stopped. Reaching down, he gradually removed the rope from around my legs and spread them open. He placed his hand in my panties and I actually rolled my eyes to the back of my head. Then started touching me. Gently at first, then stopped. He was teasing me again, and I was loving it.
Stage Fright
J suddenly appeared and joined us, he told me I was not to cum until I was begging for it. I knew he was saying it to provoke me, he knows exactly what to say to fire me up, and it worked. They both began to play with me, bringing me to the edge, then stopping, repeating the action until I was trembling. I was right on the edge of orgasm when out of nowhere, I got stage fright. I had never orgasmed for anyone other than my husband before. As I lay on the bed, trying to focus, I admitted defeat and told them i felt too much pressure. i didnt think i could do it.
They both slowly rose up and looked down at me. The sight of them towering over me, whilst I was still tied up and vulnerable, almost made me regret saying anything. J assured me it was all ok, and that we would try again. With that, Tom pulled me up by the rope still tied around my breasts. He kept Kissing me whilst he untied the last of the rope. He took hold of my arms for a moment to loosen the stiffness in my shoulders and pulled me into a cuddle. As I looked up, I saw my husband by my side and he bent over to kiss me.
"Enjoy that?"
I nodded. I studied his face, not sure if he wanted to continue, perhaps this had been enough?  J reached out for my hand and rested it on his crotch. I felt how hard he was, and smiled as I tilted my head back for another kiss.
Tom moved me over to the edge of the bed and kneeled behind me, he took off my dress ( i was surprised that I was still wearing it) and unhooked my bra. Instantly as I sat in nothing but my panties and stockings, I had to resist the urge to cover up my chest. J took a step back to watch, as our Tom laid me back down on the bed and kissed me. They both the undressed me and themselves and were kneeling over me. I began to stroke Tom with my hand and J entered my mouth, I filled up my mouth with him and began to rock my head back and forwards.
Taking Control
Eventually, I pulled back and asked Tom if he had a condom. He nodded and backed away whilst J was kissing me, his hands exploring my body.  As our Tom came back over to the bed I pushed him onto his back. He may be a Dom but at that moment, I was in control. I swung my legs over him. He didn't complain. I bent over for a kiss and to pull him inside me. I began riding him. I had never experienced another man other than my husband before and feelings of similarity yet unfamiliarity registered at the back of my head. I took J's cock in my mouth again, while we try different positions. They both took turns with me. It all felt amazing. So hot. And really, really surreal. Finally, Tom climaxed. He stroked my hips for a while before pulling back. I saw his loaded condom as he retreated to the bathroom to clean himself up. As I straightened up, J pulled my face up to his and asked me how it felt, just having another man inside me?
I smile demurely at him and answered, "It feels amazing."
Then he kissed me. I love this man so much. As he held me in his arms, it hit me that I didn't want to forget a single moment. We continued making out, and Tom returned. He reached for his pile of toys and pulled out a length of chain. At first, I wondered what it was but as he untangled the chain, I realised what he was holding – nipple clamps. J bent me over the edge of the bed, as Tom positioned himself in front of me and reached for my breasts. Slowly and almost gently, he attached them. Left nipple first, then right. I gasped as the pain registered in my head. I can't believe I ever wanted to try them out. They hurt! I was about to  call out, "Amber!", when my husband thrust into me from behind. The words turned to a gasp and suddenly, the pain became an intensive form of pleasure. Tom took hold of the chain attached to the clamps and gently tugged at them so that with every movement behind and in front of me, my brain was going into overload.
My groans and gasps pushed my husband over the edge, and he orgasmed. He stayed there for a while then gave me a kiss, as he kissed me, Tom tugged on the nipple chain, and once again, I gasped involuntarily. J smiled and headed towards the bathroom leaving us alone. Tom continued playing with the clamp but the pleasure once again was turning back to pain. I whimpered quietly, Tom reminded me, that was not the word to use, and I quickly remember, Amber!
My Turn
He laughed and slowly removed them from me which brought on another brief but different pain that made my breath catch in my throat. We took a break and I went to the bathroom to clean myself up, but I was still feeling naughty and very horny. I returned to the bedroom, knowing that this time, it was my turn and I was ready. Tom and J pulled me on the bed, and J went down on me. He knows exactly what I like and had me on the edge of orgasm in no time. Tom put a hand over my mouth and with each breath, I feel myself getting closer and closer.  Tom realised this and immediately started to use the pinwheel, raking it over my body, stomach, breasts. As I arched my back the pinwheel was pushing into my body, but I could not help myself. With a final gasp, I feel the orgasm rip through my body. It was so intense, and satisfying, and flowed through my body, making me convulse under their ministrations.
They stopped and I just lay there for a while, simply panting. I did not feel embarrassed or self-conscious about sharing such an intimate moment with another man. J slowly surfaced, smiled up at me and kissed me between my legs before announcing that he needs to go clean his face. For some reason, this made me laugh breathlessly. I looked up at Tom "Did you have fun?" I ask languidly.
"Oh yeah", he replies.
"Good." I say, "Me too."
Hello, I am Kitten T the Editor of #itsakittensworld, passionate about sexual liberation and anything which encourages female sexual empowerment. I Love horses! You can follow me on Twitter for my latest views on the world of KK