Sexting is a great way to start unleashing your wild side, so if you're ready to delve into erotic expression, this blog is for you.
I'm Asa Baav, matchmaker, coach and founder of Tailor Matched. In this blog, I'll share with you why you don't need to bump bodies to still get your thrills and some ground-rules to make your first foray a little easier and a lot more fun.
Tips on how to start sexting and sexting etiquette
If you're new to sexting and not sure where to begin, I'd suggest keeping it really simple to start with. Feeling embarrassed or nervous? Then start with the basics.
There's a time and a place for sexting
You might be feeling all hot and bothered, but is the person on the receiving end in a position to be able to text you back? It's always good etiquette to check in with the person before you start sexting them to see how they are and gauge their mood before jumping right in.
Once you've got the all-clear, remember to go slow and focus on the build-up. Why rush things? Creating hot and steamy tension and suspense can really get the juices flowing, so hold off on sending pictures or anything too explicit too soon. Everyone loves a little bit of cheeky teasing. Let their imagination run wild as you let that sexual tension continue to build.
Maybe the person you're sexting wants to engage in dirty talk or share their fantasies. They might even want to turn your texting fantasy into a reality! There's no need to put any pressure on them or rush things. Whoever you decide to explore with, remember to be respectful about what they're comfortable with doing. People like to be treated well, so make sure that when you're being naughty, you remember to be nice too.
So, how do you start sexting?
A good way to get a sexting conversation going is to describe what's on your mind in a rich and inviting way. Here's a sexting example:
"I just had this hot fantasy about you. I'd love to tell you about it."
or
"I just had a steamy shower, and my mind can't help but wander to…"
It's generally a good idea to start with what's really turning you on, as it removes the pressure from the other person to jump straight in. It also helps to build trust as you take the lead, plus you sharing what's already turning you on is likely to turn them on.
Always think about how to make the other person feel included in your fantasy. A text from someone you've just started speaking to that says "I want do to X, Y, Z to you" might not make the person on the receiving end feel like they have much of a role. You might even hit on the one thing they really hate, making them feel awkward, uncomfortable or triggered. Ask them questions. It can be as simple as "I want to know what really turns you on. Are you happy to share?"
Sharing a fantasy about something you perhaps haven't tried before or a fantasy that includes a third party might leave someone feeling left out. It's all in the phrasing. For example, reading "the thought of having a threesome makes me feel so turned on" might make you check out, where as reading "I would love to see another woman kiss and go down in you!" could get someone really excited. Remember to think about the other person, not just yourself.
Get Creative With Your Words
Be creative and mix up your language. Use words to paint an erotic picture of what you want. What do you fantasise about? How do you want to make your person feel? How does making them feel like that make you feel? Tell them!
Instead of sending "I feel so horny right now", you could try something like "I wish you were here so I could kiss you slowly, across your body, starting with your lips, your neck…the only question is where would you like me to go next?" The more involved the other person feels from the beginning, the hotter things will get!
Don't feel like you need to phrase your sext as I've done though. Remember to bring your own personality. Authentic self-expression is a massive confidence booster; before you know it, sharing what turns you on will feel like second nature!
As well as sending written messages, you could also try using audio recordings, pictures and videos to add to the sensations. Words on a screen can be great, but nothing beats hearing them moan as they get close to climaxing whilst fantasising about you!
Here's how you can get even more creative with sexting:
Sexting games
Three choices
This is one of my favourites. You simply ask a question with three options for them to choose from. Each choice can have different consequences. It's like a choose your own adventure, but in sexy texting form.
Would you rather?
A classic and simple game with a twist. Make all your questions about sex and explore their mind and yours.
The "What if?" game
Tap into their imagination by asking lots of open-ended "what if" questions and let them be the guide. This is a great way to guarantee exactly the kind of stimulation they want.
Play the director
'The Director' is a fun way to make Skype or FaceTime sex a lot steamier. During this roleplay, you both take turns to become 'The Director'. When they're the director, they are going to tell you exactly what to do. For example: "Touch yourself", "Massage your breasts/cock" or "Turn around".
It's up to the director after all! Don't forget to take turns playing this sex game.
Video chat hookups can be a fun experience with someone you're dating if you do it right. Keep it fun, lighthearted, sexy and experimental. This might be the opportunity you've been looking for to introduce a little role play into your sex life, so be open to the unexpected joys of social distancing.
Sexting ideas for a long-distance relationship
Being without your lover can get mighty lonely. But there's no need to forgo sex and intimacy altogether. Physically-distanced sex has some obvious disadvantages compared to the in-person kind, but it's got its own thing going on too. For one, you can indulge your voyeuristic and/or exhibitionist tendencies as you open up about your fantasies.
So, if you've found someone you can trust, here's what to do if you want to try a little digital sex date.
Remember when
This is a great way to not only strengthen your connection as you take a trip down memory lane, but you also get the chance to relive some hot memories.
Use A Couples' App
Couples' apps like Couple, We Did It, and Happy Couple help couples stay connected and get to know each other long-distance, and more R-rated ones like Desire help keep the spark alive. InTheMood is great for couples who want to flirt and communicate their desires across long distances. You might find you're more playful and at ease if you use a separate app, as opposed to texting sweet nothings in-between practical messages. And of course, there's always the KK Chat App!
Face(Time) Only
A surprisingly sexy twist on a FaceTime session is to show your faces only. As you touch yourselves with toys or hands, tell each other what you're doing and let your imaginations handle the rest. Watching someone's face – and being watched – can be surprisingly intimate. Invest in a phone stand for that hands-free experience, lie back in bed and you're good to go!
Sext shopping
When you're not able to physically be with your lover, you have to work harder to keep the romance alive. For you and your partner/s, that might means pulling out all the stops when you have date nights or a sex sesh planned. Why not browse for some sexy underwear together, or surprise each other with sexy parcels in time for your next date call.
Exchange NSFW Films
If you're shy about being naked on video, consider recording just your voice as you masturbate. Filming yourself in the throes of solo passion might be too intimidating, so consider sending a very short clip of your self-pleasure session filmed in the dark, or with the camera focused on just one part of your body, or catching a glimpse of you in the mirror. Your lover will benefit from the sounds, and the lack of a clear picture helps to build mystery and anticipation.
How do you finish a sexting conversation?
Ok, so you've engaged in some sexting, enjoyed some sexting games and you now feel satisfied and complete. Or maybe you've started something and your mood has changed. That's totally ok too! There are plenty of ways to bring your sexting conversation amicably to an end. Here are some suggestions if you find yourself unsure of what to say.
"I had really enjoyed tonight and I would love to stay and chat for longer, but I have an early start tomorrow – can we pick back up another time?"
"Ah that felt so good, I really wish you were here so I could feel your body and your skin – would you like to do this again?"
"You are such a tease, I would love to find out how this ends but I really need to go. Can I call you later?"
"Something has come up for me and I need some time to sit with it, can we talk about something else or are you ok to pause?"
"I am not sure if I am ready to continue right now. I hope you understand."
'No', is a full sentence
When it comes to sexting and sex in general, we can choose to change our mind and say no at any time.
It's ok to arrange a hot liaison during the day and then have no interest in it when the time comes around. It's ok to get hot, heavy and swept up in the conversation, lose your turn-on and want to just have a non-sexual chat instead.
Just remember to engage in sexting, when you feel ready. I wouldn't recommend sharing pictures of videos where you can see your face until you truly get to know someone, and finally, make sure you know how the images and texts are saved. You probably want to keep your nudes off your work phone or a shared family account!
Want to learn more about sexting?
KK host a range of dirty talk workshops, empowering you to ask for what you want when it comes to sex.
Keep an eye on our upcoming workshops and grab your place.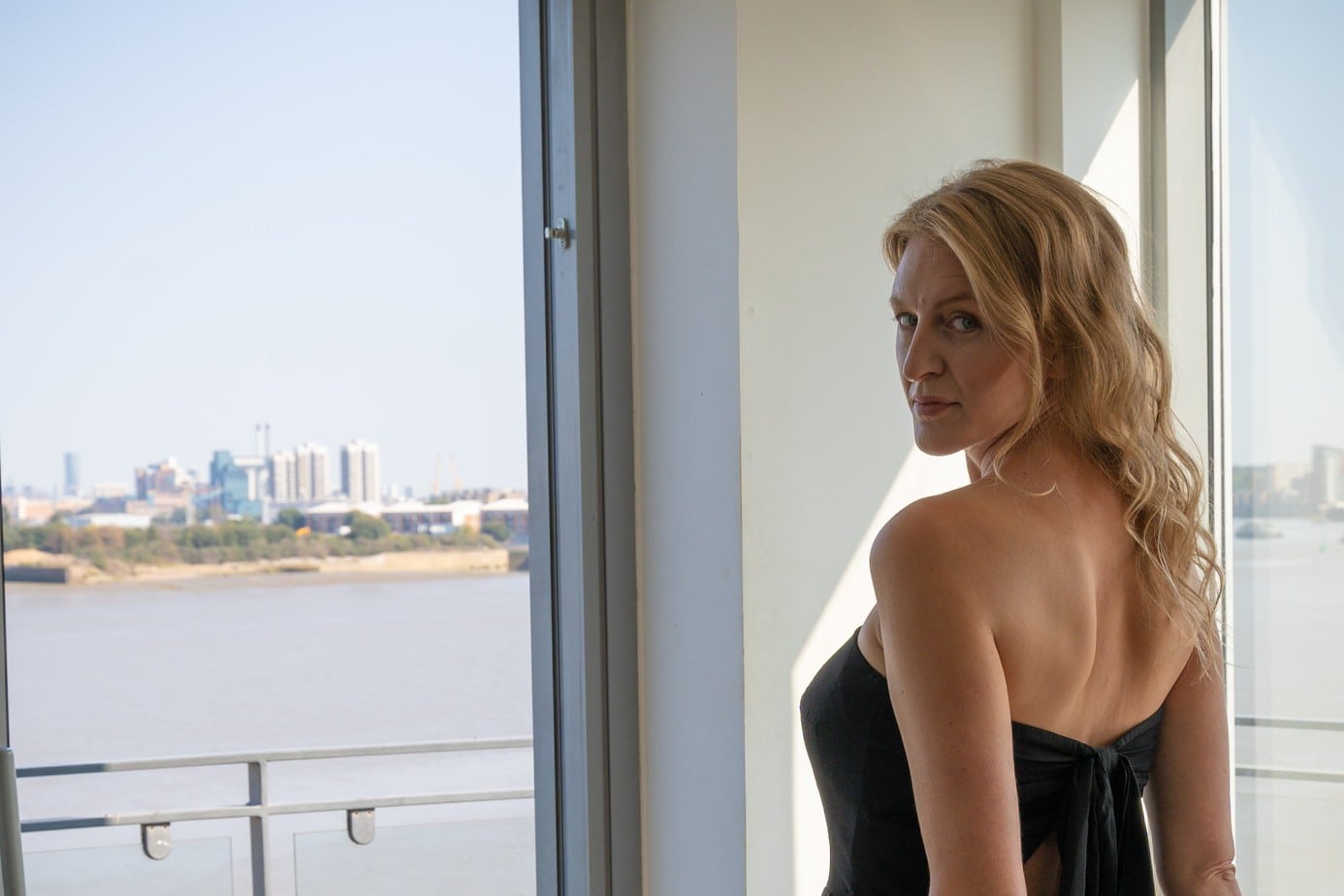 Asa
Baav (she/her) is the founder of Tailor Matched, a matchmaking agency for the wild at heart and the nationwide thought leader in sexual and romantic compatibility. As a matchmaker, coach, and educator she is on a mission to help busy professionals create deeply satisfying romantic relationships, inside and outside the bedroom – no matter where they are on their dating and relationship journey.