A great place to begin your learning and exploration can be over text. Sometimes it feels a little too much to have sexy conversations face to face with a partner. Perhaps you're using apps to explore your fantasies, or speaking to people long distance. In all these instances (and more!) texts can be a great tool for exploration and discovery.
If you're feeling ready to try something new, or wanting to expand your sexy horizons, then this blog on how to talk dirty over text is for you!
What things should you say when talking dirty over the phone?
I know that dirty talk can sometimes feel a little awkward, to begin with, but remember that sexual confidence is a living thing. What I mean by that is the more you consciously seek to develop and exercise your sexual confidence, the stronger it can grow.
It can be so affirming to be your authentic sexual self, whether that is with yourself in a journal and/or with a partner over text. The stresses and strains of trying to be someone you are not can fall away. Rather than putting all your energy into conforming, you can focus on nurturing and developing yourself. Think about what it is that you want, rather than what you hope will please a partner. Talking dirty over text can be a great place to start to assert your wants and desires.
Do you know what is really sexy? Consent.
Before you embark on your sexual adventure, I recommend talking to everyone involved about what sorts of interactions might feel best now and what you're all comfortable with sharing. There must be consent in place for remote interactions, just as there is when in person, especially if you want to bring in a little kink. This includes setting boundaries around how much we are willing to share, what kind of conversations you want to have, as well as taking into account photos, videos and taking screenshots (more on this in a moment).
If you want to take things slow and you feel like they aren't respecting your space, that tells you some important information about them and your relationship to one another. It may be that this is not the right person for you to explore with, it may be that more conversations need to be had about respect. In any case, no one should pressure you into doing things you aren't sure about, whether in person or over text. Try to give yourself time to notice how interactions are making you feel. If you need to take a step back from communications, that's okay.
Safety Over Text
Whether you're talking with a new lover or partner/s of many years, it's worth having a clear conversations about if you want to share images and video, and what your boundaries might be around that.
It might be a good idea to put a disappearing timer on your videos and images (many apps, including the KK Chat App, allow you to do this). It's also a good idea not to include your face in any nude or provocative images.
This advice can go for long term partner or brand new connections. It might be helpful, especially if you are exploring something new, to feel like there is a boundary around these communications, a way of containing the experience so that it doesn't live forever on either of your phones.
Know what language is off-limits
Everyone is different. Some people get a thrill from saying or hearing things that might usually be a bit stigmatized.
Others love swear words, while some people find them too jarring.
Some people get turned on by hearing 'pussy' or 'daddy' while others get turned off.
Make sure you check in with yourself and your partner/s to see if there are any words that they want you to avoid during dirty talk, and communicate and explore what you like and don't like.
How To Talk Dirty Over Text
Hot tip: you don't need to barrel into a conversation about pegging your partner if you've never uttered a word about anal!
If you're talking to an established partner, you can ease into the dialogue by telling them something they do that you love, or something you love doing with them. You can let them know you've been having some naughty thoughts, and ask if they're open to you sharing them.
It's so important not to just leap into sexting – you don't know when you might be catching them during their day, and if they are not available to receive sexy messages from you it can have the opposite of the intended effect. Make sure you ask permission to share: "I've been thinking a lot about last night… I'd love to talk more about that if you're available?" As the conversation builds up, you can get more and more specific and explicit.
If you're talking with brand new connections, first of all congrats! You're being bold and trying new things. In these instances sometimes the parameters are made clear from the start, and often these apps will have a more discreet notification setting or option. It's always worth checking that they're available to receive naughty messages, though, especially if they are online and you want to have a back and forth chat.
What types of dirty talk examples can I use?
Here are 21 dirty intros you could try over text:
I just got a vivid image in my head of when you…

Do you remember that time when we…

I just got a flashback to when…

Tell me what you want to do to me…

I just played with myself. I miss the way your skin feels, your hands on my body. Got anything to add to that vision?

Have you ever tried X before?

I am wearing that (insert clothing) you like. I am running my hands through my hair, caressing my neck, touching my (X)… what would you like me to do next?

You can't come until I say so. Are you game?

Tell me the dirtiest fantasy you've ever had

I've got something for us to play with later… want to see?

Name a body part and I will send you a picture of it

I want to softy kiss your lips, whisper all the things I want to do to you

[Send pictures of two sex toys] Pick one for me to use/for later…

I want you to bend me over and give me a spanking

I've been very naughty…what's my punishment?

I've been thinking a lot about [name a sex position you'd like to try]…

I am so wet/hard for you right now, I can't wait for you to X

Tell me what you think about when you masturbate

I loved seeing you in that [clothing] you wore last night, it makes me feel X

I just thought of something I really want to try with you, want to hear more?

Come over here now!
What dirty text messages can I send?
The societal "shhhhhing" many of us grow up with sound sex and pleasure means that not only do we struggle to be sexually assertive with our partners but even to be honest about what we want with ourselves. It's easy to either say nothing at all or blurt everything out at once.
So, slow down, start small, decide on what it is that you want to say, take a deep breath and press send. Here are a few examples of specific dirty text scenarios to get started.
Share a fantasy
Dirty talk over the phone is a perfect opportunity to talk more about a fantasy that you have perhaps brought up in the past but never fully explored.
When you start with fantasies, you can get a much better picture of how you or your partner want to feel during sex. So even if you don't then play with all the elements of the fantasy, you can still create some of the atmosphere. For instance, if your partner has a fantasy of being kidnapped, you can create a sense of vulnerability and entrapment irl with a blindfold and some restraints.
Be Specific!
Perhaps they say that they want to be tied up, but what does that specifically look like?
Do they like silk ribbons or chains?
Are we talking feet and hands, or the whole body?
Go deeper to understand who, where, how and why they want what they want so you can both explore the desires more clearly. Plus getting your partner/s to share more about their fantasy will get them all hot and bothered…
Some prompts to get the conversation started:
What's something that you haven't done yet but still want to try?

What do your favourite sexual experiences have in common?

Which sex toys do you like or want to try? And why?

What emotions do you feel during really good sex?

What makes you feel turned on during a normal day?
Knowing how you want to feel, and the kinds of sexual, erotic or intimate activities that bring you those feelings, is a great place to begin a conversation.
Finally, just like IRL, you can set the mood before you get down and dirty via sexy dirty talk. The beauty of sexting is that you don't need to do this. You can sext from the airport departure lounge if the fancy takes you. But it can be fun to create a little ambiance, especially if you're settling in for the evening.
Tidy your space, make your bed, light a few candles and dim the lights. Maybe even create a sexy Spotify playlist and have it playing in the background. Create a sensual ambience for your digital get down just as you would if they were staying over IRL.
Want to take your sexy texting up a notch?
KK host a range of dirty talk workshops, empowering you to ask for what you want when it comes to sex.
Keep an eye on our upcoming workshops and grab your place.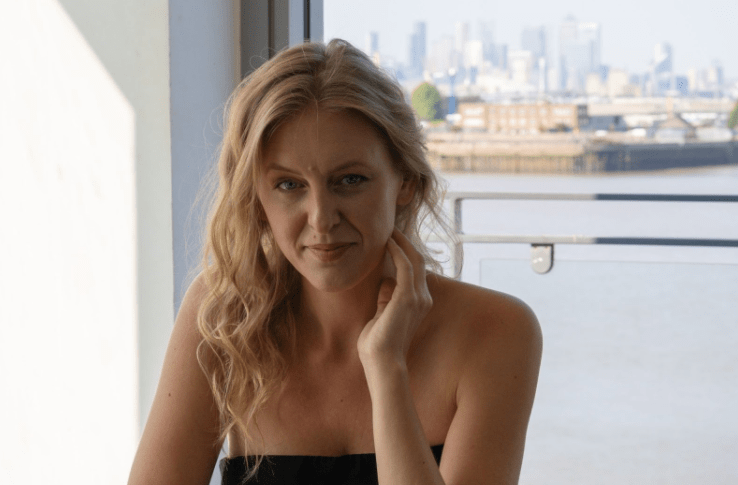 Asa Baav (she/her) is the founder of Tailor Matched,  a matchmaking agency for the wild at heart and the nationwide thought leader in sexual and romantic compatibility. As a matchmaker, coach, and educator she is on a mission to help busy professionals create deeply satisfying romantic relationships, inside and outside the bedroom – no matter where they are on their dating and relationship journey.