It is the work of Katie Roberton, a British ceramic artist and designer who runs Outlandish Creations from her London home. Her ceramic pieces are beautifully crafted, delicate, luxurious, feminine and provocative, and she counts celebrities such as Lady Gaga and Elton John amongst her clientele.
Here, Roberton tells us a bit about herself and her unique company.
Hey Katie! What is Outlandish Creations?
Outlandish Creations is the brand I created that represents my making process. I am a designer and maker of extremely high-quality, beautiful china tableware.
How long have you been in business?
I started Outlandish Creations when I left art school in 2005.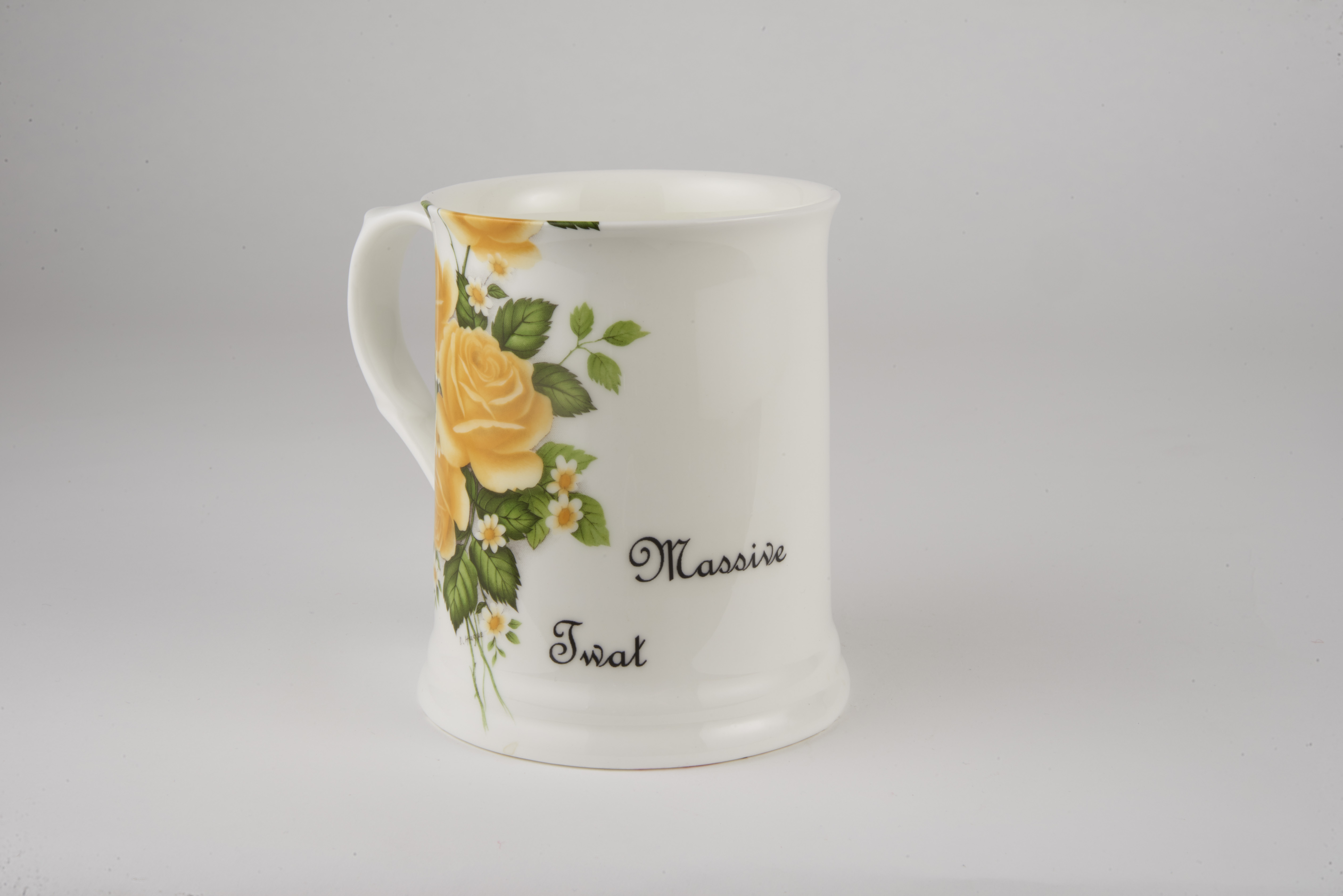 What makes you so different to other porcelain companies?
The quality of the work that Outlandish Creations produce is utterly perfect, and my quirky sense of humour is present in every piece I make. I'm passionate about delivering something that's not only beautiful in itself but presented beautifully too.
What is the most unusual product you have been commissioned to make?
This would be a commission that I'll be working on in the new year. It's not only an incredibly complicated mould to make, but it's going to produce a fabulous objet d'art. My mouth is watering just thinking about how challenging and difficult it will be.
What's your best seller?
The 'whore' teacup, of course—made famous by Lady Gaga tweeting her very own teacup made by Outlandish Creations.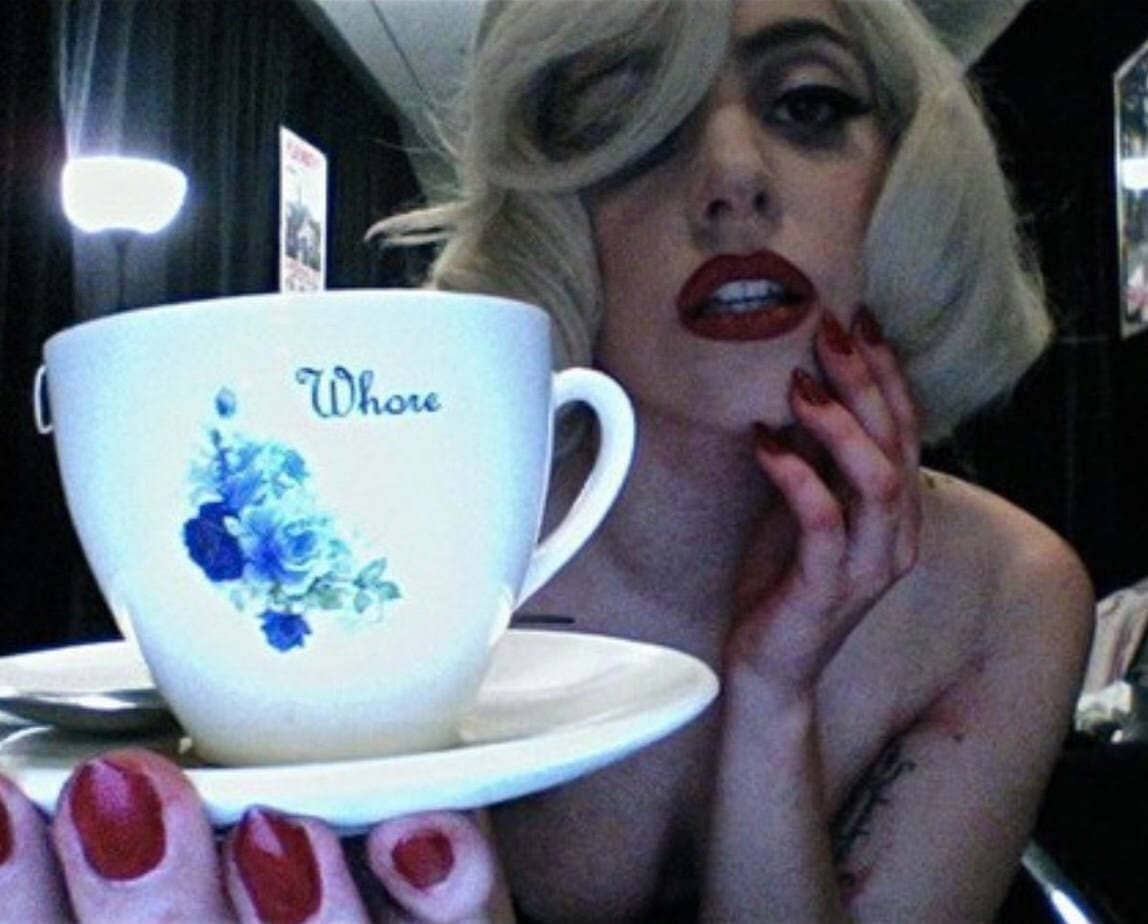 How do you juggle your business/life?
It is full of ups and downs, dramas and crises, busy and quiet times, but the pleasure I get from someone so excited to receive an Outlandish Creations piece is always worth it.

Want some Outlandish Creations of your own?
You can order a commission or buy any one of the beautiful standard product lines available from her website.
Take a look over the product pages, and you'll find mugs, cups and saucers, salt and pepper pots (shaped liked cocks, of course), clothing, bags, and even pet bowls!
A celebrity brand with the most famous faces drinking from her teacups
With famous Outlandish Creations owners on her list that include Sir Elton John, Lady Gaga and Damien Hirst, you'd find yourself in excellent company.
Other star sippers taking a tipple from Outlandish's china teacups feature Joanna Lumley, Ruby Wax, Graham Norton, and Susannah Constantine.
Katie has appeared on ITN National News, as well as in The Daily Telegraph, The Metro, and Vanity Fair.

Current 'Creations' and commissions
Porcelain, fine bone china, and earthenware mugs, tankards, teapots and more; have them embellished with your own saucy straplines or pick from Katie's selection of proven favourites. There are all kinds of suggestive suggestions, each one beautifully crafted into a little work of art.
Some of the recent commissions on Katie's list include,
10 dinner plates, hand-delivered as a birthday gift-set
20 large salt and pepper 'cock-shakers' with blue delft floral decals, for a 40th Birthday celebration at a luxury boutique hotel
A porcelain tea-drinking straw
Thrown porcelain fruit bowls
And a 16-piece porcelain chandelier!
If there's something you've seen here and it doesn't feature on the Outlandish Creations list, then get in touch with Katie. She's always happy to consider new and exciting possibilities.
From the initial plaster moulds to decals and designs created in Photoshop—everything is created by Katie. With such all-round personalisation available, well, anything is possible.
Whether your Christmas shopping list is full of Nice Tits t-shirts, Fuckoffee or Massive Twat mugs, your Kitten-friends are going to love what they find in their stockings.
You can follow Outlandish Creations on Twitter, Facebook, and Instagram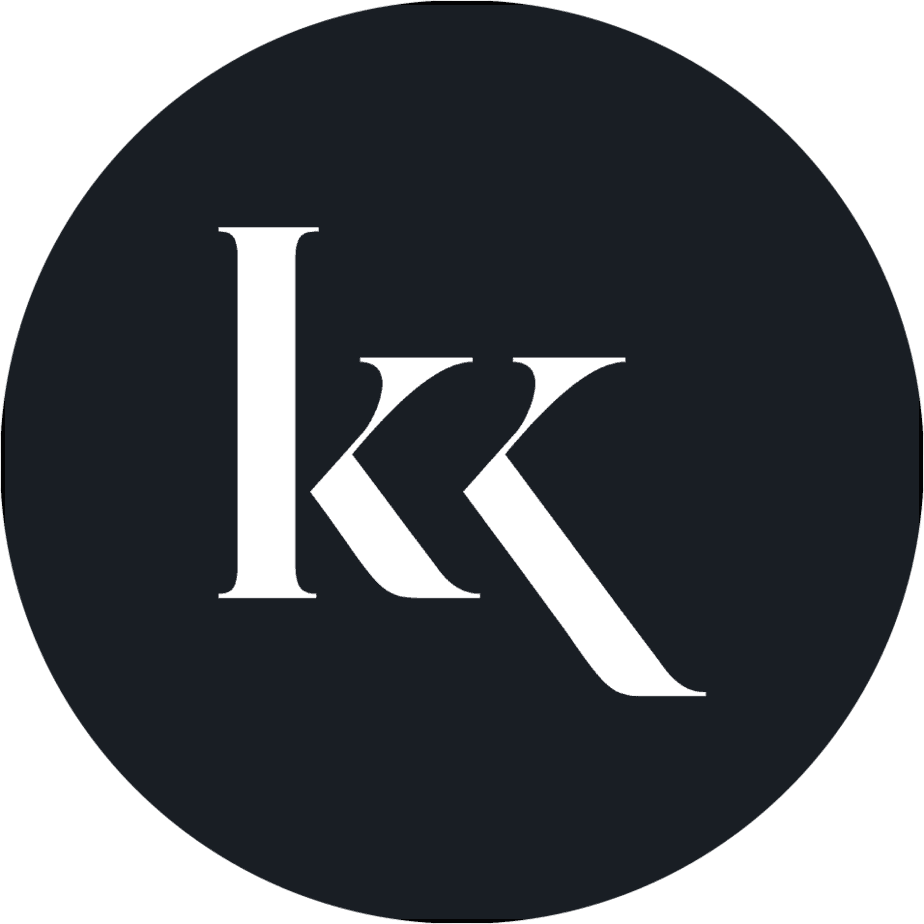 Written by the Killing Kittens team.