Friends have been commenting that I've had a noticeable spring in my step of late. What had I changed, they asked? Was there a new Tom on the scene? Little did they know that my secret tonic was in fact hidden on – or rather inside – my person.
That's right: gloriously sensual ben wa balls, tucked ever so intimately inside my vagina.
When LELO invited me to try out their seriously sexy LUNA Beads Noir, I jumped at the opportunity. Visually, they're already quite the turn-on: smooth and slick, and with a satisfying weight to them, they ooze allure. More important, if past experiences with other of the Swedish brand's award-winning sex-cessories were anything to go by, I was in for a treat.
Reader, I was not disappointed.
But before diving into all the pleasurable details of my LUNA Beads Noir test drive, first an introduction to what these deceptively simple balls of delight actually are. Sometimes called ben wa balls, kegel balls, or love balls, these satisfying spheres have two main functions. First, they are an excellent exerciser for those all-important pelvic floor muscles. More on that shortly. But quite aside from helping tighten and tone our lady parts, ben wa balls also offer serious pleasure potential.
First up, there's the undeniable thrill factor of wearing them. Discreetly hidden inside, they're the ultimate sexy little secret. Many, LELO's included, contain an inner weight that rolls freely around inside the structure as the wearer moves. The sensation feels much like waves or vibrations and is impossible to ignore: the vaginal muscles continually contract and relax around the balls, responding to their movement. The result? A constant state of feeling super turned-on.
At 37 grams a pop, LUNA Beads Noir make for a satisfying presence inside the body. Size-wise, they're a modest 29 millimeters in diameter – in other words, not intimidatingly large, but big enough to stay put. (Incidentally, the brand also offers a slightly larger version by way of its LUNA Beads Classic, particularly recommended for older women, or those who have given birth vaginally).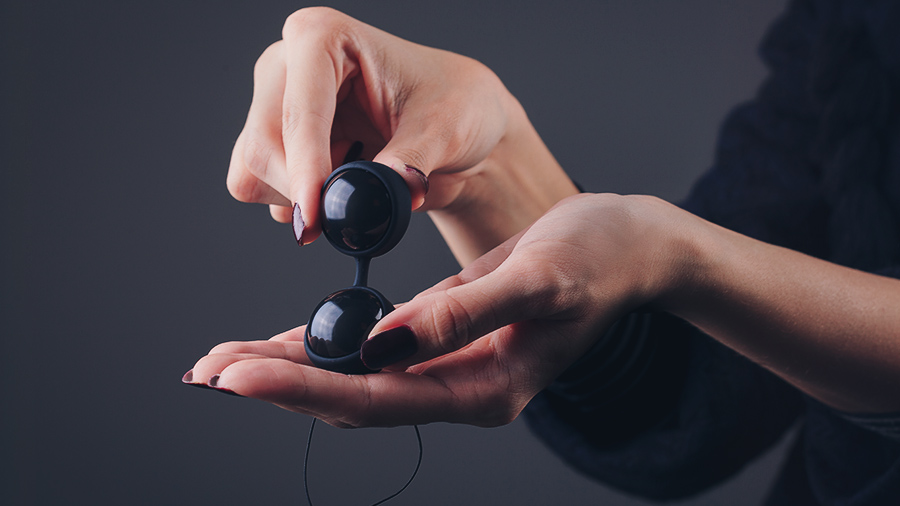 The pack contains two beads, as well a soft silicone girde. I started slow with a single ball, before graduating to the pair. Although easy to insert, I strongly recommend applying a dab of lube to the ball for a more comfortable experience. Doesn't lube just make everything better?! Lie down, relax, and with clean fingers, gently insert the ball one to two centimeters inside, pushing slightly up toward your belly button. The retrieval loop should be just outside – much like a tampon string.
What happens next is entirely up to you. Me, I took my blushes and my beads on a particularly thrilling walk to my local park. With every step, I could feel the balls shimmy and shake inside of me. And while they didn't make me climax (now that would have taken some explaining!), they felt deeply arousing to wear. Because sharing is caring, I texted my boyfriend my findings; let's just say that on returning home after our date that evening, we were both just about ready to explode!
It's rare to find something this pleasurable that's also good for you, but ben wa balls are exactly that. As well as those aforementioned thrills, they also work to strengthen and tone the pelvic floor muscles: a hammock-like structure supporting the bladder, bowel, and uterus. A strong pelvic floor can help prevent some of the more distressing side effects of milestones like childbirth and menopause, including incontinence. Stronger muscles also make for more intense orgasms. In other words, these are a definite win-win!
So there you have it: LUNA Beads Noir , the deliciously sensual reason behind the recent and undeniable spring in my step. Worn on a date, at a business meeting, or just out on a stroll, these babies are an alluring accessory for arousal, for health – and for the promise of heightened orgasms to come!
Hello, I am Kitten T the Editor of #itsakittensworld, passionate about sexual liberation and anything which encourages female sexual empowerment. I Love horses! You can follow me on Twitter for my latest views on the world of KK