Killing Kittens is truly global, and one continent who really know how to KK party is Australia. Here we have a party review from Kitten G, proving that Kittens are Kittens wherever in the world they may be.
Was this about to become about losing my KK virginity at a KK party?
This is it. After months of perusing the KK world, and chickening out on the first party I wanted to book, I'm finally going to my very first Hedonistic Party. I guess I get bonus points because I didn't need to Google 'hedonistic'. I should be doing a happy dance, however, I'm secretly nervous and well, feeling a little overwhelmed.
You see, I'm fairly open with my sexuality and have a high sex drive – so this should be a walk in the park you would think. No. Nothing could be further from the truth. I'm almost paralyzed with fears.
Am I too fat?
Am I too old?
Am I too bisexual?
Oh, dear god, it's been 4 years since I slept with a woman – will I even remember what to do?
What will I wear?
Who will go with me?
Killing Kittens has the exclusive, sex bomb, gorgeous, young, high tits kind of vibe, and I was so very worried I wouldn't fit in.
Being the kind of woman I am, I thought the best way to handle my fears was to make the list and cross them off one by one. I'll be honest. I never ticked them all off, and I don't know if I ever will, but my fears – gone!
First stop – sexy lingerie & mask…hedonistic lingerie was called for!
Honestly, for your first party, I recommend going to the max on this. You will feel gorgeous inside and out. Oh, and then you can take some sexy shots for our fabulous KIK groups
Next step – find a wingman / winglady to go with you. I asked a gorgeous married friend, that I knew had a liberal husband & would encourage me to get my 'KK' on.
Then came the out of the blue connection with a Tom who wanted an invite to the party. Well. The more's the merrier, I'm thinking. So I took my feminine ways and met up with him. Logic says you don't invite a Tom without at least meeting up and checking he'd fit in. Who was I kidding – I hadn't been to a party yet. Anyway, after a fabulous few hours with him (use your imagination) he was my 3rd for the evening.
The Party
I'm waxed, nails done, made up, lingerie tightened, shoes to kill, mask on, champagne sipped on and in an Uber. Too late to change my mind now, I'd be letting down the others. So altruistic of me.
We were greeted with so much warmth (and Aperol spritzes) that those butterflies soon stop fluttering in my stomach. The venue was gorgeous. A Top floor penthouse with a balcony the size of many small apartments, with the most phenomenal view of the Harbour Bridge & Opera House! The perfect location for a KK Summer Soiree. Then because we were a lucky bunch of Kittens & Toms the gorgeous Emma Sayle was there for a q & a with us, before the party.
Everyone was dressed gorgeously. Which I was so delighted by. I'm a more is more girl, so I love the no jeans world of KK. We mingled, asked questions and surprisingly to me, actually did connect with people even with the masks on. Business was discussed, as were children, fears, our views on sex and even – where we did our shopping. It's was, well, like any other cocktail party. An hour or so passed after the Q & A when the permission seemed to be granted for the masks to come off. The 2 half naked waiters passed around oysters and filled up our glasses. Yes, we drank, but nobody was obviously drunk or on drugs, which I think in this kind of environment is a great thing.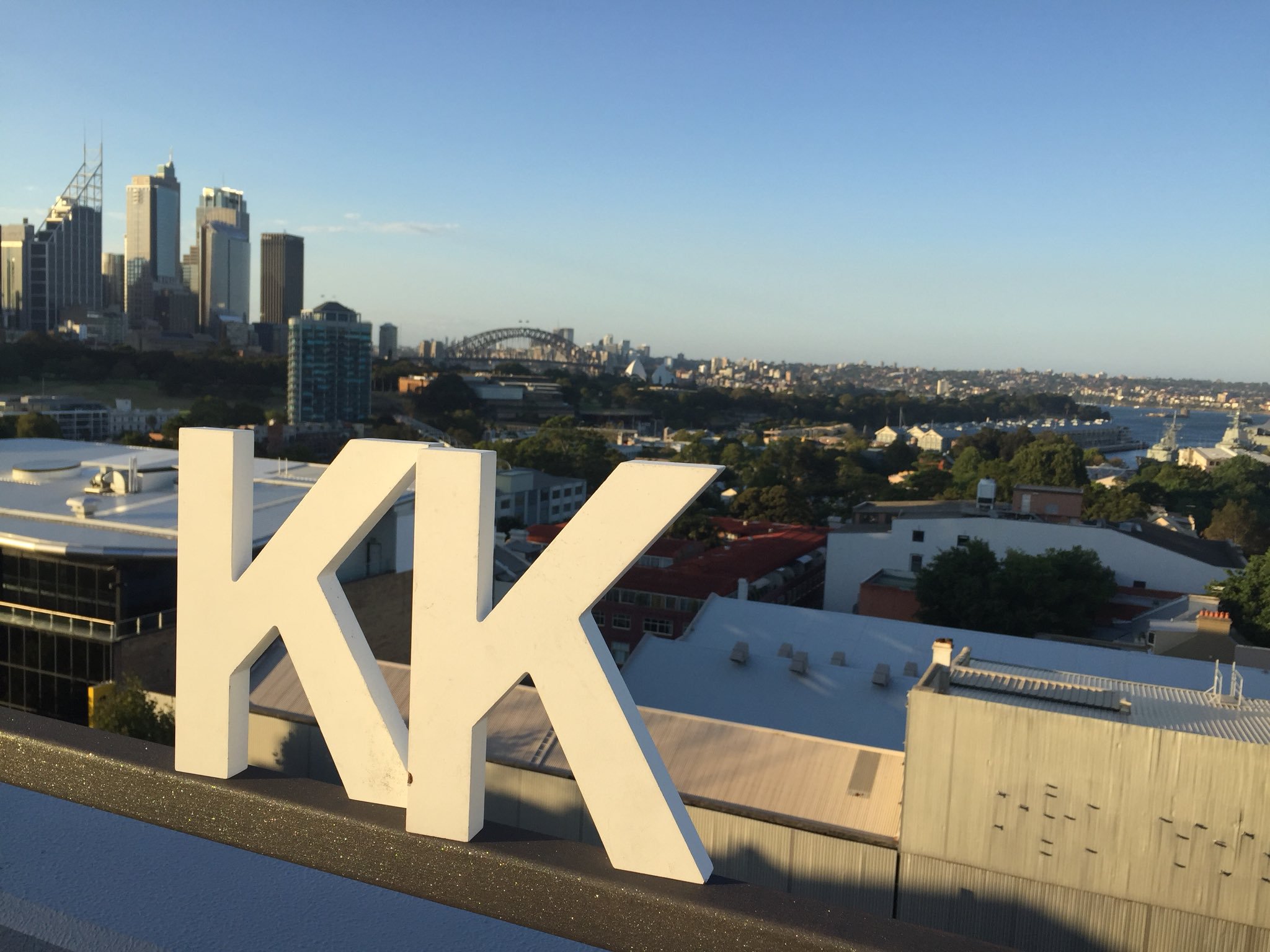 I so wasn't sure how all of this was going to work. Is it that someone shouts out 'time to get your gear off' or 'who wants to bonk'? No, it was so much subtler than that. I've been involved in group sex before, but it was always an organic part of an event – not an organised thing, so I had no idea. People simply started moving towards the 'playrooms', which were in this case 3 large bedrooms. The lounge and bathroom later saw some action, with an impromptu riding crop impact play lesson and one very full bubble bath.
There's no need to go into details about who did what to whom – what happens in KK stays in KK and all that. However, I will list a few of things that were seen and or taken part in by me.
· Oral
· Strap ons
· Paddle & Crop lessons
· Intercourse
· Fisting
· Bubble Baths
· Toy bags
· Conversations whilst sitting in underwear on lounges and tables
· Voyeurism
· Names being screamed out
· Phone numbers being swapped
· Kisses on breasts during conversations
· 2somes, 3somes, moresomes
I could go on, but you get the point. Sex was had, by many people, with many people. All of which was done very safely and very consensually. I was intrigued by the respect the Toms had for the Kittens to rule the roost.
Did the party have to end?
I for one was having so much fun. At no point in the evening, even when my butt was in the air, did I feel too old, too fat or too boring.
I felt sexy as fuck!
Eventually, the official KK party came to an end and guests began to head home. The last few of us there, well, I'll be honest here – we weren't ready, so the party continued for a lucky few at my place till the sun came up.
Hello, I am Kitten T the Editor of #itsakittensworld, passionate about sexual liberation and anything which encourages female sexual empowerment. I Love horses! You can follow me on Twitter for my latest views on the world of KK