Porn performer and occasional writer, Lina Bembe hails from Mexico but is now based in Berlin. She has been shooting erotic films for two years and has worked with renowned feminist directors, artistic collectives, and cult directors.
What did your first porn scene involve?

My first scene was a BG shoot with Alexei Jackson for the feminist director Lucie Blush. Her production style is very natural and spontaneous; no makeup, no scripted sex. We shot in a small apartment. I was on my period and didn't want to wear a tampon and nobody opposed. The owner of the flat had cats, one of them didn't mind us and jumped into the frame a few times. Alexei and I were free to fuck in whichever way we pleased, let go and be natural, Lucie's only rule was that we could fuck everywhere but on a bed. During the shoot, we had a couple of funny moments. Somehow we broke a shelf while undressing. Also, at some point, we had to stop for a bit because my hands went numb and I couldn't stop laughing. After wrapping up we all had a beer, pizza, and the most casual conversation. Towards the end of the shoot, it all felt like I paid a visit to a friend, except for the fact I got paid to fuck a sexy guy. It was great!
How did you end up with a career in the erotic industry?

It's a new career path. I have a postgraduate degree, but I always had a hard time finding a job I would love enough to forge a solid career path. One day my instincts drove me in the direction of porn and I've never regretted this decision. Through porn, I've been able to find a better connection between the things I like and what I'm good at. I've discovered I thrive when I show myself open and vulnerable in front of a camera. Nothing compares to finding your vocation and daring to follow it through.
What has been your favourite scene to date?
I don't have a single favourite scene. I love doing porn so much that it's very important for me to remain selective about what kind of content and with whom I shoot. Because of this criteria, so far I've always left the set feeling happy, accomplished and with no regrets. Also, what happens behind cameras is very important for me, there's always a particular energy and chemistry going on set and I love to draw from it when the camera rolls. In consequence, my favourite scenes are always about the complete experience; the mixture between the vibes going on behind the camera and the content of the scene. I absolutely loved shooting The Waltz by Lucie Blush, Feminist & Submissive by Erika Lust, Neurosex 3 by Eric Pussyboy and The Misandrists, my first feature film by Bruce LaBruce.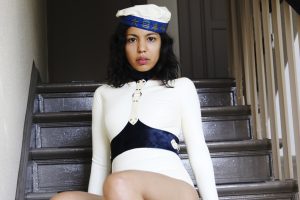 What's the funniest thing someone has said to you during filming?

I love the combination of laughter and sex, so whenever the atmosphere allows for it, I like to make jokes, like moaning in the phoniest possible way at the slightest touch of a fellow performer, telling a fellow female performer she just knocked me up, or things of the sort. I once shot an orgy for Ersties.com, where we were put through a set of challenges, such as reading a poem, singing a song or making prank calls while riding a Sybian. The entire shoot was all laughs until we all started to moan in real pleasure.
You mention the Feminist & Submissive film by Erika Lust, about being both a submissive and a feminist. Is it important to explore political issues through erotica?

All porn is political because it is ultimately a cultural product that reflects our values, desires, structures of domination and possibilities for empowerment. Porn in many ways either reinforces or challenges our sexual preferences and behaviors. Porn even functions as a substitute for the sex education many of us don't receive! Although mainstream porn doesn't address their politics openly, in many ways it reflects the white, capitalist, hetero-patriarchal discourse that already dominates other spheres of our life. In my opinion, the overarching discourse of mainstream porn is so toxic, normative and misogynous that it's important to challenge it in whatever way seems fruitful. I found the discussion we had at Feminist & Submissive incredibly inspiring, but it isn't always necessary to have round tables and cite feminist authors. Sometimes all that's needed is to portray female bodies having fun and pleasure in their own terms. That's very political too because female pleasure is taboo unless it serves the male enjoyment.
Hello, I am Kitten T the Editor of #itsakittensworld, passionate about sexual liberation and anything which encourages female sexual empowerment. I Love horses! You can follow me on Twitter for my latest views on the world of KK