Long nicknamed the 'Audrey Hepburn of sex toys' (by us), we thought it was high time we opened that sacred secret shoebox in our wardrobe, dusted off our LELO SORAYA and shared our wild ride with you fine folk.
There are some experiences that defy description. My experience with SORAYA , a dual vibe from the pleasure purveyors at LELO, is one such example. So I may as well stop this review here because it's pointless and go do something more productive like masturbate again.
Thanks for reading. The end.
Ok, ok, I guess I should try.  LELO, the creators of such groundbreaking pleasure products as the recent SONA Cruise, released SORAYA nearly 10 years ago, installing it immediately as a design classic and an icon of the newest generation of sex toys. It was a sell-out hit everywhere it appeared, and may have been the first vibe ever widely known by its actual name (with the possible exception of 'The Rabbit' in Sex and the City, but that wasn't really it's name. I'm just sayin'.).
In the strictest sense of the term, SORAYA is a 'rabbit vibe', with a clitoral stimulator attached to the side of the shaft. But, as an actual fan of rabbit vibes, I can tell you that the similarities are superficial. Most rabbit vibes are made from some form of jelly rubber variant, and are often soft and noisy, with rotating beads in the shaft. SORAYA is a different animal altogether.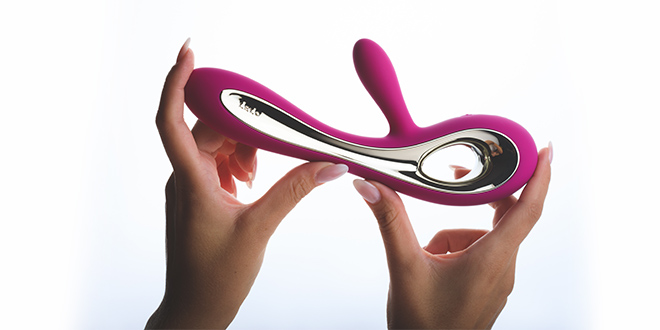 THE TORTOISE AND THE HARE – Lelo Vibrator
LELO is famed for its classy approach to design and aesthetics, and their award-winning packaging is only where it begins. With LELO, everything is about the experience, the atmosphere, and the ritual of receiving a luxury sex toy, undressing it and using it. That's most true of SORAYA, above and beyond all other LELO products, thanks to its long, flowing lines and beautiful, feminine curves.
Where old fashioned rabbit vibes are generally quite ugly things, all sparkly pink and purple (SORAYA is also available in these colours – Deep Rose, Cerise and Black, to be exact), SORAYA is almost ornamental in its sweeping form. It looks and feels like a premium object, with sufficient weight and metallic detailing to complement the firm, smooth silicone.
At nearly nine inches in total length (about 6.5 inches of insertable length), SORAYA is a substantial pleasure product that will satisfy most tastes perfectly. But the real trick is not in the length of the shaft, but in the width. It tapers from a thin base into a thicker, rounded tip. It's a very fulfilling sensation, both for women who want a bigger vibe AND for those only just upgrading from their first or second vibes.
A HEAVENLY BODY
Unlike the soft and mushy bodies of older, less premium sex toys, SORAYA's silicone body is stiff and firm. This means that the powerful vibrations are transmitted more efficiently into your body through the silky silicone. That's a boring way of saying it's much, much more intense at its highest settings.
One of my personal highlights is that SORAYA is fully waterproof, which means you can safely use it in the bath. That's particularly useful if that's the only place, thanks to the lock on the door, that you can find some me-time, and it helps that SORAYA is basically whisper quiet too. That's where it really comes into its own, and where I love it most: wet, warm, and slippery. Clean body, dirty mind.
It's USB-rechargeable for real convenience, and I find a two-hour charge will give you about fours of play. That's pretty good by sex toy standards, and you'll never have to raid the remote ever again.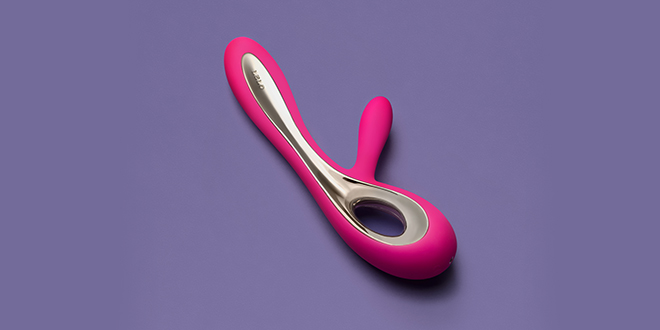 CEILING SQUEALING
So that's the basics. I opened by saying that using a SORAYA  defies description, but since that's the most important aspect you probably want to know about, I'll give it a go.
The vibrations aren't rumbly, nor are they buzzy. They're something in between, a blend of both. It seems to emit sensation everywhere all at once, and when it's inside you, you can't quite pinpoint where and why it feels so good, as you can with single-motor G-spot vibes. It's a unique feeling, it's more like an energy than a vibration. I know that's a bit weird and abstract, but I warned you it was hard to describe. All you need to know is that it's incredible.
On its very highest setting, some women will find it overwhelming, but I enjoy it. While there's a setting for every woman, it's the power queens who will really get the most out of SORAYA. It has two separate motors, one near the tip and one in the flexible clit stim, which bends to suit your anatomy while keeping pressure applied. I swear, when you find that perfect position, when the tip is massaging your G-spot and the other motor is gently pushing against your clit, it will curl your toes, cross your eyes and make you scream at the ceiling.
Honestly, SORAYA made noises come out of my mouth that I've never made before. I think I was praying at one point. It's an almost spiritual experience.
Hello, I am Kitten T the Editor of #itsakittensworld, passionate about sexual liberation and anything which encourages female sexual empowerment. I Love horses! You can follow me on Twitter for my latest views on the world of KK