While group sex can take a little more planning, apps like Feeld, 3rder, and, of course, Killing Kittens, have made it easier than ever to find couples or a third (or fourth…) who like similar things to you. Communication and consent are always the most important thing when it comes to intimate encounters and that's true when it comes to multi-partner sex as well. 
"The ménage may not happen on the first go round," Tamara Griffin wrote for Madame Noir. "Ease into the situation. Don't give pressure or feel pressured by anyone to participate. You want everyone involved to be comfortable and confident with the decision to play." Spend the time before you get into the bedroom (or wherever you're getting intimate) to flirt with your partners. Talk about your desires and any acts that are totally off the table. 
Once you've found the person or people for you then it's time for the fun part. Here are seven threesome positions that we feel are worth trying out next time you find yourself involved in a situation with an extra pair of hands (amongst other things…)
The Voyeur
The Voyeur is a really good position to begin with if you're new to group sex, are turned on by watching your partners be intimate together, or want a slow and sensual way to initiate sex with other partners. Equally, if you like the sensation of being watched, this is the perfect position for you. 
To try The Voyeur two or more partners can begin to initiate sex. This can be any kind of sex – oral, manual, penetrative with a penis, strap on, sex toy or fingers. While two people are enjoying being intimate together, a third can watch on and pleasure themselves. 
Some sexual positions lend themselves better to the voyeur's perspective. For instance, when a 69 position is happening there isn't a lot to see from an outsider's perspective. However, cowperson (where a person being penetrated sits on top) can be lovely to watch. 
The Voyeur is a fun position because it allows you to teach your partners how you like to be pleasured and is a very low-pressure way of easing into group sex. Instead of seeing the watcher as being outside of the sexual experience, each person is receiving pleasure and giving in some way to each other. 
The Daisy Petal
The Daisy Petal is similar to The Voyeur in that it's a great way to initiate group sex. It also places a special focus and importance on some of the erogenous zones that aren't found around the genitals. 
For this position, you'll need a bed, chair, or surface to sit on. One partner will sit down with their legs spread as another leans down in front of them and performs oral or caresses them. While this is going on, a third partner can stand behind the person sitting down and kiss down their neck, touch their chest or breasts, and respond to where the person receiving feels the most pleasure. 
Healthline explains that while many people are aware that the nipple area, naval, and neck can provide pleasure when stimulated, there are more uncommon or lesser known erogenous zones such as your ears and lower back to explore. 
Center of Attention
Centre Of Attention is fun because each partner can take it in turns. One by one, explain exactly what you'd like each partner to do to you, or simply verbalise the things that turn you on. 
The other partners can then get to work on fulfilling all of your wishes. This can mean exploring with sex toys, oral, penetrative sex, or other kinks and fantasies. There are endless possibilities.
The Tag Team
To try out The Tag Team, one person needs to lie back on a bed or surface with their legs spread or hanging off the edge or lifted up. Then a person with a penis or strap on or fingers can enter them while they're reclined back. The third person can then straddle the face of the person lying down and receive oral. 
This position is great if you love both giving and receiving pleasure. The person lying down gets the best of both options while the person receiving oral can watch their partner have penetrative sex, or kiss and play with the person doing the penetrating.
Oral For Everyone
If you like the idea of simultaneous pleasure for all partners involved then you may need to try Oral For Everyone. This is very similar to The Tag Team only things are a little different in that every partner has access to each other's genitals for oral, rather than one person penetrating. One partner lies down on their back, and once in position another partner can straddle their body in the opposite direction (so they're in the position for 69) and start performing oral. The other partner can straddle the face of the person lying down and also receive oral. 
Close the final link in this position by having the person receiving oral from the person lying down perform oral sex (or use their hands) on the third person (the one in the position for 69). In this way, in the Oral For Everyone position each person can enjoy giving and receiving pleasure simultaneously.
Confused? Check out this helpful illustration – depicted here as happening between two people with vulvas and one with a penis, Oral For Everyone can be performed by any combination of genders and genitals. 
The Doggy Chain
The Doggy Chain is an adaptation of a position you may have tried while having sex with one other person but it includes everyone in your group scene.
One person lies down on the bed while another leans over and performs oral. A third partner with a strap on, penis, fingers or a toy can then enter the person giving oral in the traditional doggy position. This is a super easy threesome position to try if you've performed or received oral before and if you've explored doggy with just one other partner. 
If you want to switch it up a little bit, the person on the bed receiving oral can bend over instead of lying down on their back to be pleasured differently. However, this doesn't break the chain. 
This is an inclusive position in the sense that all partners are involved and receiving pleasure in some capacity. However, if you're being penetrated and performing oral at the same time it can be quite overwhelming. Always make sure everyone has a way to nonverbally as well as verbally communicate with each other, to express if it's becoming too much, if anyone needs a break, or if you want to be pleasured in a different way. 
The Double Cowperson
Last but certainly not least there's The Double Cowperson. Like The Doggy Chain, The Double Cowperson takes a position that may be familiar to you from sex with just one partner and ensures that it's fun for three people. 
One partner with a penis or strap on or something similar can lie down on the bed or a surface. Then another partner can straddle them, experiencing pleasure from penetration. A third partner can then straddle the face of the person lying down and receive oral from them. Both partners who are straddling their third  can face one another and kiss or stimulate other erogenous zones should they want to.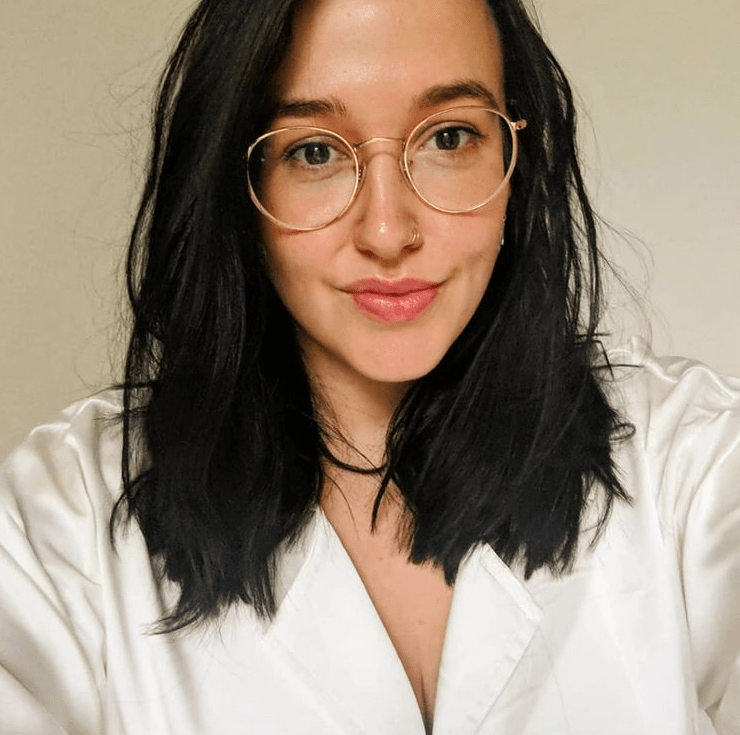 Alice (she/her) is a London-based freelance journalist and broadcaster. She loves covering sex and relationships, mental, maternal, and menstrual health, and pop culture. Alice has worked with Bustle, HuffPost, The List, Forbes, BBC, and Metro among others.