Seduction, sandalwood, and one insatiable Kitten…read on for the latest red hot story from erotic writer and Killing Kittens member Harsha
A message pings from WhatsApp.
'I summon you to the office. I'm free this evening'
'Make sure you look like a secretary with tights and heels'.
The sheer thought of dressing up for him sends my pussy into a frenzy.
As I shower, I feel a quiver in my cunt thinking of what lies ahead with him. I play with my clit teaser in the shower and begin to orgasm thinking about him, my legs shuddering as I hold onto the bathroom wall.
I come out of the shower after what seems like an eternity and oil my sexy body so that he can smell the mango fragrance on my silky skin. I do my makeup and wear hot red lipstick which goes beautifully with my light brown Asian skin. Puckering my lips together I say to my reflection 'You look hot, girl'.
I slowly put on my red satin corset, careful not to catch my nipple bars on the hooks that bring my beautiful big breasts nearly up to my chin. I obviously decide against wearing knickers.
I put on a tiny sexy skirt that compliments the corset, making me look like a Moulin Rouge showgirl. I slowly roll on my crotchless fishnet tights, ensuring not to snag them, and finish off this seductive look with patent black heels. Wow! I look sexy as fuck. My beautiful big breasts ache for him to touch me.
I arrive at his office where he opens the door and his eyes immediately start undressing me. I feel my thighs already wet from my dripping pussy. As I slowly walk up the stairs to the office, I feel his eyes all over me. I step into the office, and my eyes light up. It's absolutely breathtaking.
He has totally transformed the office into a Bollywood wedding theme. Sequin cushions made for a maharani, raw silk sheets draped over the sofa, soft Moroccan tea lights burning with sandalwood incense oil that's sexually intoxicating.
I make my way over and sit at his desk, looking at him seductively. I feel my pussy begin to moisten and ache, dying to feel him inside me.
He comes over and tenderly kisses me telling me he has missed me.
Not so fast I tell myself. Don't give in just yet…tease him a little!
He kisses my forehead then slowly runs his fingers over my neck, running his tongue over my juicy lips.
'This is so fucking hot' I whisper.
I gently push him away as I sit across from him, showing him my 'kohi-noor' clit piercing before crossing my legs again. He gets two glasses, the ice cracking as he pours in the rum.
'Neat or with coke, baby?'
'On the rocks' I seductively reply.
After taking a sip of my drink I decide to stand up and walk over to the drawer of goodies I keep in his office. Out come the handcuffs and blindfold. I gently twirl the cuffs with my fingers and run my red nails over the neatly trimmed fur that made them look so fucking filthy. I turn, looking out of the window and bending my hips slightly so he can see I am yearning for his touch.
He comes over and I turn around. I slowly get onto my knees, looking up at his big hard cock glistening with pre-cum at the tip. 'Ooooh, yummy' I giggle. I slowly smell his cock taking in his fragrance and sweat which I find alluringly attractive. I roll my tongue over the tip licking off the cum that has oozed out simply because of my presence! I love this!
I roll my tongue over his balls at which he lets out a moan that makes me so fucking hot! I gently roll my tongue over the whole cock taking it into my mouth and deep throating him. Gently choking and pulling it out of my wet mouth then rolling the tip over my red lips.
'Enough. Bend over you slut I want to feel myself inside your wet cunt for a moment.'
I get off my knees and arrange myself, placing the palms of my hands on the window-pane, slightly tilting my hips out so he can push into me to feel my wetness. He lets out a gasp.
'Fuck your cunt is on fire, I love it, it's so tight!'
'Tell me something I don't know,' I giggle.
'Stop' I say and get back on my knees. I start rubbing his cock between my big brown breasts, giving him what they call a 'Bombay roll'! This in turn makes him harder and in mid-flow I start to yearn, to want, to need to suck him again. I push him down onto the sofa and the reflection of the sequins glimmer from the throw onto the ceiling. It looks majestic.
'Raise your wrists together' I command, and with a click, I handcuff him. I sit on his face and say, 'now lick my cunt and tongue fuck me hard, I want to give you a pussy facial'.
With that, he starts flicking my clit and fucking me hard with his tongue and within minutes I begin to orgasm and gush all over his mouth and face. 'Lick it all up, darling' I murmur. I didn't need to tell him twice.

I get off his face and undo the clasp on the handcuffs. I gently blindfold him and reach for the camera I know he keeps in his top drawer and set it up on the table. I want to capture this moment for us to look back on.
I slowly lower myself onto my back on the sexy raw silk sheets, which remind me of exotic hot Indian summers and the fragrant smells of spices and the sweet smell of flowers. I place a purple velvet sequin cushion under my head to give me a slight tilt to watch him.
He throws my legs over his shoulders and pushes his big, hot, throbbing cock inside me. Oh, my goodness: I'm now going insane, biting my lips and moaning with sheer pleasure.
'Oh baby, fuck me harder' I gasp. He licks the soles of my feet then moves to suck my red polished pedicured toes. This drives me wild. I arch my back and suddenly see our reflection on the camera which is recording us. Yummy! This is so devilishly hot. I love this! I love us! The connection we have is so intense, and the attraction is even more electric.
Both our bodies syncing in movement and in time with our breathing, I look at him and say, 'I'm going to come', to which he replies, 'Me too'. With our bodies dripping in sweat and our arms and legs entwined, I scream 'I'm coming baby, cum with me' and with a long, deep groan, he cums hard inside me. Still lying on top of me he kisses me hard. Wow! Coming together was phenomenal. Every bell in the Bombay temples must be ringing for us. I gently get up as he pulls out of my wet, warm pussy and I go to clean myself.
Upon my return, I sit down with a grin on my face, and add more ice into my glass. I pour more rum into it before taking a long, well-deserved sip. I sit down and start playing with my nipples which starts turning me on again. I begin to moisten. I arch my back and suddenly I am reminded of the camera. From the corner of my eye, I see the consistent red flash of the light. It is still recording us.
My eyes move to his, and I look at him as I say, 'Fancy a blowjob…?'
I go down on his cock and slowly, and I start to suck. Within minutes he starts to shudder and squirts again into my mouth.
'Oh my god baby I'm shattered, no more.' He breathes heavily.
'That's what you think,' I reply. 'It's football season and I'm going for a hat-trick today' I laugh.
We lie down on the sofa together our body's touching and my legs wrapped around his like a melody of musical notes. We chat for a bit before I turn around and go onto all fours!
'Fuck me doggy style.' I demand.
He licks my cunt from behind and sticks his hot thick cock inside me and starts riding me, pushing deeper and deeper and driving me wild… he starts to shudder, and every drop of what cum he has left in his body has been taken by me! My hunger has been satisfied – for now.
He rolls onto his back on the sofa and says 'I'm done, darling! I'm going to nap, lie with me, stay the night and wake me up with blowjob'.
He falls asleep in my arms; I slowly get up and tiptoe out to the bathroom to freshen up and get dressed before leaving him to sleep. My thirst has been quenched, so I have no need to stay.
'Until next time,' I whisper into his ear. 'Thanks for this evening. Got to go, darling'.
A Kitten has to do what a Kitten has to do!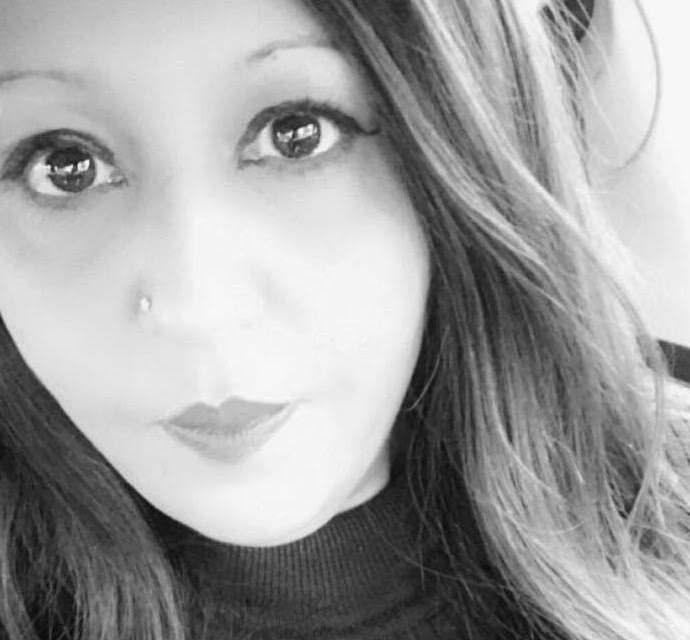 Hello, I'm Harsha and my name on KK is AsianH. I have an amazing partner who has opened up Pandora's box. I love to share my fantasies as they're sexy, fun and almost impossible not to share! So here goes to writing for the KK blog.