How to Find Someone for a Threesome
The internet is a great place to look since it offers a wider network of people than you might be able to access in real life, but romantic and sexual interactions online tend to follow their own set of social rules – especially when you are looking for threesomes. People slide into one another's DM's saying things they'd never say in person – they shoot their shots by liking four of your pictures in a row. Eggplants mean penises, and peaches mean butts, and looking down on your phone to see a "you up?" message means your night might just be getting quite sexy. 
So, where exactly do you look, and what exactly should you search for, in order to optimize your chances of having a threesome? Perhaps a threesome dating site, or apps that are designed for those looking for threesome dating. If you are one of the many people wondering how to find a third person for the bedroom, we can assure you, you are not alone. Read on for our best threesome tips – from apps, to advice for the best real threesome hookups, below.
Threesome Dating
Unicorn Hunting: Educate Yourself, And Hit The Apps
By which I don't mean Tinder. "Unicorn hunting" or the act of finding a third as a couple, is a very tricky business. Many people, particularly bi or queer women, feel fetishized or undervalued by the couples they come across on platforms intended for singles. The stereotype is that these couples do very little to educate themselves on relationships outside of monogamy, and are really there for their own benefit as opposed to caring about the wellbeing of the third. If you are in a couple, remember that the third person is not just a fun addition to switch up your sex life: they're an entire person with their own sexual desires, wants, and emotions in and around the experience.
Seek Apps Designed With Threesomes And ENM In Mind
This is different when looking at apps that are more open ended, or ones created specifically for people practicing forms of ethical non-monogamy (ENM). These apps tend to be more threesome-friendly, offering plenty of identity terms to attach to your profile as they encourage honest and open communication, which is the key to finding a threesome partner(s). The best threesome dating site or best threesome app? We might be biased, but Killing Kittens has got you covered, with plenty of labels to describe yourself and what you're looking for, and of course the ability to make a joint profile as a couple. 
Searching For A Threesome On Apps
Once you've created a profile, be sure to strike up a conversation with your prospective partner(s), bringing up what you're looking for as early as possible and asking them about their needs and wants. Consider whether you'd be willing to meet in person for a conversation first, or if you can find other ways you may be able to establish more trust between you prior to having your sexual encounter/s. One way, may be discussing in detail what different parties may want from a dating app threesome. Check out these prompts below for some detail-oriented, and thought-provoking conversation-starters to try out on a threesome app.
How To Prepare For A Threesome
1. Think about these questions together with any potential threesome partners:
What do we do if someone changes their mind? Do only they sit out, or does play fully stop?
Will everyone be involved physically at all times? Will someone only watch?
If someone is only watching, can they touch themselves?
How can someone initiate taking a break, slowing down, and ending play?
What kind of breaks do we each like, and how do we like to communicate during sex?
How will we ensure that we are all getting what we need during sex, and during any pauses?
What will our relationship to the space, and to each other, look like after sex ends?
What kind of aftercare and conversation do we expect and want after this sex?
2. Prepare Yourself For Rejection If You Do Not Align With Your Potential Partners
It is also important to mentally prepare yourself for potential rejection by remembering that receiving a "no" from someone is far from an evaluation of your value. There are a million reasons why a person could not be interested in the threesome you're suggesting. Respecting their "no" has to come before any feelings you may have, which you can work through separately.
How To Have A Threesome
1. Hire a Sex Worker
This may be a less conventional method of finding a third person for the bedroom, but full service sex workers can be of great assistance to those who have specific ideas of what they want sexually. Sex workers are often well-equipped, experienced individuals who can help people to fufill their sexual ideas. If you want to go down this avenue, do your research to make sure that what you're engaging with is safe and consensual, and make sure you're aware of what the legalities may be, as laws around sex work vary across the world.
2. Attend a Party
Sex parties (or play parties) exist, and they can be just as exciting as they sound. Sex parties can also involve "swinging" – when partners practice ethical non-monogamy and choose to swap sexual partners with others – and are frequented by people who not only typically have more open-minded views on sex, but are also open to non-traditional sexual relationships.
You Don't Have To Physically Partake – You Can Just Watch
Additionally, if you would prefer to stay out of the shared physical sexual activity going on at the party, you can absolutely engage in solo-play, or, as a watching participant – so long as you ensure that your gaze is consented upon and welcome. KK parties, as is true of other respectable, safer spaces, prioritizes enthusiastic and reversible consent. Additionally, many sex parties and play spaces often have introductory events for beginners. Either way, sourcing new threesome partners from the sex positive community will likely diminsh your chances of feeling or encountering shame and stigma. You can look for parties and like-minded people near you through Killing Kittens as well.
Top Tips for the Best Threesome
Check in and Communicate
Why Does Everyone Want This Threesome?
Check in not just with the members of your threesome, but with yourself as well. Why is it that you want, or have agreed to, a threesome? Maybe you think it'd be really hot, perhaps it's to please your partner, or to seem more sexually explorative than you really are – in which case we'd recommend checking in and making sure this exploration is something you actually want to do for yourself, and not just to fit some standard or imagined sexual ideal.
What Do You Hope To Try In This Threesome?
What particular acts would you like to engage in? Are certain kinds of sex off limits? When was the last time everyone was tested for STIs and what were they tested for? What are your emotional needs? Perhaps aftercare is a priority for you, perhaps you need members of this sexual experience to be people with whom you are extremely comfortable.
Evaluate If You Are All A Good Fit
Being honest with yourself will allow you to be honest with your partners. When communicating, either digitally or face to face, do what you can to create space for partners to express the same. Ask them these questions, and share what you are thinking. Remind them that you are not judging. Additionally, if in the process of conversing you realize someone is not a good fit for the threesome, don't hesitate to cancel the plan: there are plenty of fish in the sea!
Plan as Much as You Can
Safety First – Condoms And Toy Cleaning
Firstly, pick up some condoms/dental dams/ lube/whips and/or toys – you'll be glad you planned ahead as on the day you may be excited and forgetful. Make a little "threesome" bag for yourself if you like – anything to get you prepared for the sexual adventures that lie ahead. If you are bringing toys to share, be sure they are properly cleaned and not of a porous nature or material – porous toys can transfer STIs even after they have been cleaned, so it is very important that you are aware of what is going into or onto everyone's bodies.
Breaking Down People's Likes, Wants, Desires, And Hard No's – Setting Realistic Expectations
A common threesome fear is not getting what you sought from the threesome, particularly when it comes to feeling excluded while the other two get theirs. Your best chance at avoiding this is taking what you have discussed around how each member experiences pleasure, and using that to plan.
Who likes to be dominant and who will most likely fall into submissive roles?
Who enjoys oral or hates penetration?
Is it especially desirable for anyone to experience two things happening at once, like one person riding them while another kisses them?
Will drugs or alcohol be involved?
There's no need for a rigid step by step outline (unless you want one, and everyone else is also onboard), but having these conversations beforehand will endeavor to prevent "so… what's next" moments with feelings of "we're all equally valued in this together" and "I can change this if it isn't serving me".
Acknowledge Couple Privilege
If there is a couple involved in the threesome, they benefit from a power imbalance. If you are a member of the benefitting party, it is your responsibility to do what you can to make the third feel comfortable, safe and heard. You can agree upon things in separate conversations without the third, but you must let them know what you've decided, make sure everyone's needs are aligned, and make sure they don't feel responsible for the wellbeing of your relationship – before, during the play, or afterwards.
Prepare Yourself for Disappointment
Not because it's inevitable, but because it's possible. Real threesome hookups involve people, and people are dependably ever-changing. This is real life, not a porno. There will be awkward moments as with any first time doing something sexually. It's all a part of the journey.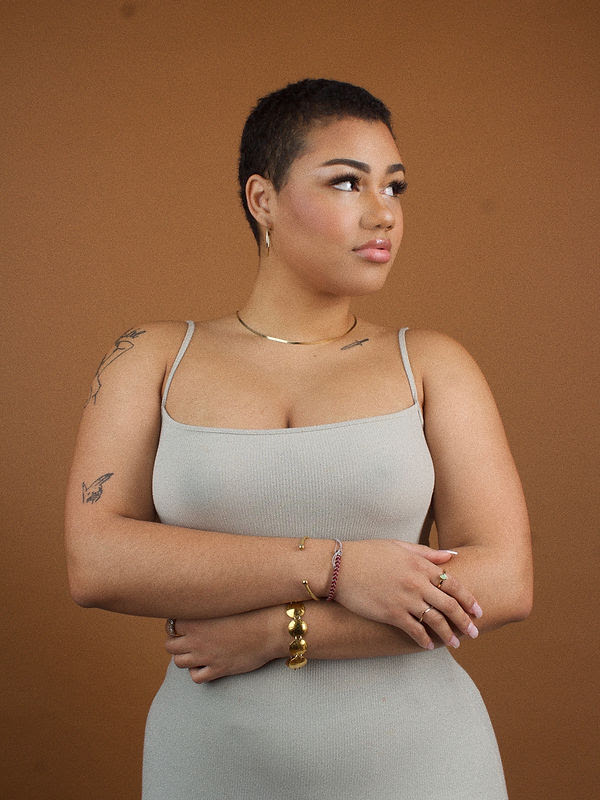 Tara Michaela (she/her) is a black, queer sex educator based in New York. Her work focuses on how injustice manifests in sexual interactions, specifically racism. She also explores how stigma keeps us all from being our best selves, pleasure as a form of liberation, and how we can close the orgasm gap. She uses her social media platforms and written pieces to connect with her community on these issues. You can find more of her work on her website www.taramichaela.com, Patreon or her Instagram (@tara.michaela).