Two of our Kittens reviewed the LELO Soraya 2, a 44-year-old and a 23-year-old.
We asked our members what their all-time favourite toys were and apart from the wand (obvs) LELO ranked pretty high. LELO seem to time and time again break the norms of sex toys and with their beautiful designs and super-smart technology.
We wanted to gift two toys to our Kittens of different ages to bring you an honest review of the Soraya 2.
Kitten J – 44-year-old mumma. Status: Needs to escape the kids for some well earned 'me time.
Like many parents, when lockdown began I quickly realised I was going to have to get used to a lot more technology in the house, like it or not. We'd always opted for the great outdoors over screens but suddenly our three young children were all vying for the one laptop to do their homeschooling and socialising, while my husband and I were both trying to work. Obviously this was a disaster and I knew I was going to have to drag myself into the 21st   century pretty damn quickly! Before long the kids had tablets and were all using Zoom, Skype, Houseparty, an endless list of school and games apps.. and peace was restored. That is until my husband got Covid-19 and so left the nest to self- isolate for a month…
He was ok but we didn't go near him and managed to stay well thankfully. Sex was most definitely off the menu, but that month was so exhausting, it was the last thing on my mind. It was a bonus if I managed to have a shower. Home schooling the kids in the day, working every night, husband in isolation. I wasn't exactly feeling like a sexual dynamo. 
Then when we were out of the woods a friend suggested I try out the new LELO Soraya 2 and I jumped at the chance. After all, I wasn't going near my husband, and having put everyone else first for weeks, surely it was MY turn for a new device with some apps and a little escapism! But when the LELO Soraya 2 arrived I was taken aback.  I was in awe of its sleek black and silver appearance, this was not just functional, it was an object of sheer beauty! Strangely, I actually felt I needed to treat it like a date – to have that long overdue bikini wax, shave my legs, moisturise, put on some nice undies. That was going to be some undertaking after all these weeks in the wilderness. How on earth was I going to 'fit this in'?!
My husband was finally back in the marital bed and it might not have been the most considerate to immediately get out a new vibrator in the middle of sex.. but I was impatient and he didn't mind. So, once I'd finally got round to the hedge strimming, one night when the kids were in bed, some fine food and wine consumed, the big moment presented itself finally. I reached over to get the delicious item out of its box and went to turn it on.. Damn. I hadn't charged it up. Hmmmm. I really was out of practice. Ok well, still there was much progress. There was sex in the house again, the Soraya 2 was being charged, it would happen soon.  In fact it was better this way, I knew I really wanted to do this BY MYSELF!! I mean, to my husband it looked like a posh corkscrew not a posh screw. This was my device, my fun.
Then life got in the way again for another long while until this morning, when I woke up in a dreamy state, realised my husband had already got up and it was a good hour before the kids would wake up. A whole hour to myself! I knew this was my moment and immediately pulled the Soraya 2 out from under the bed, switched it on. YES, working! The first thing to learn was how to turn it off quickly should I hear the patter of an intruder's footsteps. SORTED. Ok this was it. I hadn't read the instructions but it seemed simple enough: on/off and plus/minus. It felt sexy on my skin. I liked the feel of it a lot. Not wanting to waste any time (I had waited long enough for gawd's sake) it was straight in and switched on. The setting was a long regular purr and pause, inside and outside. I pressed "plus" a few times but didn't really notice a change, it carried on purring and took me to ecstatic heights with a few minutes. It hadn't disappointed so far. Next time I worked out (and here's the techy bit) that if you press the "on" button again it switches from purring to quicker pulsing and purring, then you press "on" again it changes. I forget the order but there was deep g-spot vibrating, clitoral only, both at the same time, short pulsing (you get the idea) with about six different variations designed to take you on a ridiculously pleasant journey. It was so easy to use, even for an out of practice technophobe. Any one of those settings was enough, but I got the idea that if you keep changing the setting just when you are about to climax, you reap the rewards of patience.  Needless to say it was an hour well spent and worth the wait. What was there not to like apart from having to get back to reality? 
They do say that lockdown is the time to take up a new hobby, and this is a pretty astounding way to while away the hours. Much as I still love the great outdoors, I have to admit that technology has definitely come a long way, and it's not all bad. So I may just have to contrive that perfect morning scenario again… 
Kitten E – 23-year-old. Status: Isolating alone and can't stop wanking.
I've often found myself on the Lelo website doing a should I… shouldn't I? dance. I've loved the brand for a while now and am a huge fan of their beautiful looking sex toys… but I'm not a huge fan of their price tag. I get it, so many people tell me to invest in my pleasure but especially during these times the £200 is a tough pill to swallow. When it comes to exploring with toys I'm also pretty new to the game and very sceptical… why wouldn't I just use my fingers?
The world has gone to shit and I'm isolating without my partner, so fuck it. What a better time to experiment?
The toy arrived and it was honestly like Christmas. the sleek discrete black box was hidden in an unbranded cardboard box so when my housemate asked what I'd ordered I could say oh just some makeup… no further questions asked. Fab.
I have no kids to take care of, I finished work in an hour and the only thing I had planned for the evening was to watch the Tiger King Reunion episode. So I had a shower, washed my hair, and moisturised (As excited as I was to try this toy there was no way it was getting me to shave my legs in lockdown). As I mentioned I'm new to toys, I have a few but to be honest, for ease I use my fingers unless I'm feeling like a slower, more love thy self kinda session.
I got it out and it was already charged, which was excellent. The thing with the Soraya 2 is that you have one bit that goes inside you, slightly pressing on your G-Spot and then a little vibrator to stimulate the clit (pardon the lack of technical terms, but it's basically a fancy version of the classic rabbit toy).
I am an external stimulation kinda gal. I'm not a fan of dildos (especially the overly aggressive ones that actually look like a penis) and I always prefer clit stimulation, even during sex.
I have to say that the first time I used the Lelo Soraya 2 I was disappointed. I don't know if it was because it was a new experience, I wasn't mentally in the right place after a stressful day at work or the fact that I just wanted to watch the Tiger King reunion episode but I wasn't getting anywhere near an orgasm… I decided to give up.
The toy got put away and I went to bed sulking, thinking my body was broken. I then decided to look further into it and to be honest I think the reason I didn't orgasm was a combination of all the above. I decided to try again on a weekend.
This time I had loads more success, let me tell ya that for nothing. The beautiful thing about this toy is that it's so quiet. So even when my housemates were walking around I was never afraid they could hear, which is a huge bonus for me and I'm guessing for those with children too. Now my mind was cleared, I was able to focus on the sensations and figure out what felt good. The fact that the toy was pressing on my G Spot as well as giving me clitoral stimulation means that when it was time to explore… I exploded. I found the best way to use this toy was to move it side to side on my clit. This created a simulation motion to when I use my fingers but also meant that the bit inside me was also stimulating my G-spot. For me it was well worth the price tag!
Since then the Soraya 2 has literally become my go-to toy and I've become a bit obsessed with it. My orgasms feel way more powerful and I literally cannot stop wanking. I can orgasm in under 2 minutes with toy which has turned me into a pretty efficient wanker.
Thank you Lelo, and thank you KK for gifting me the toy and changing my vulvas life.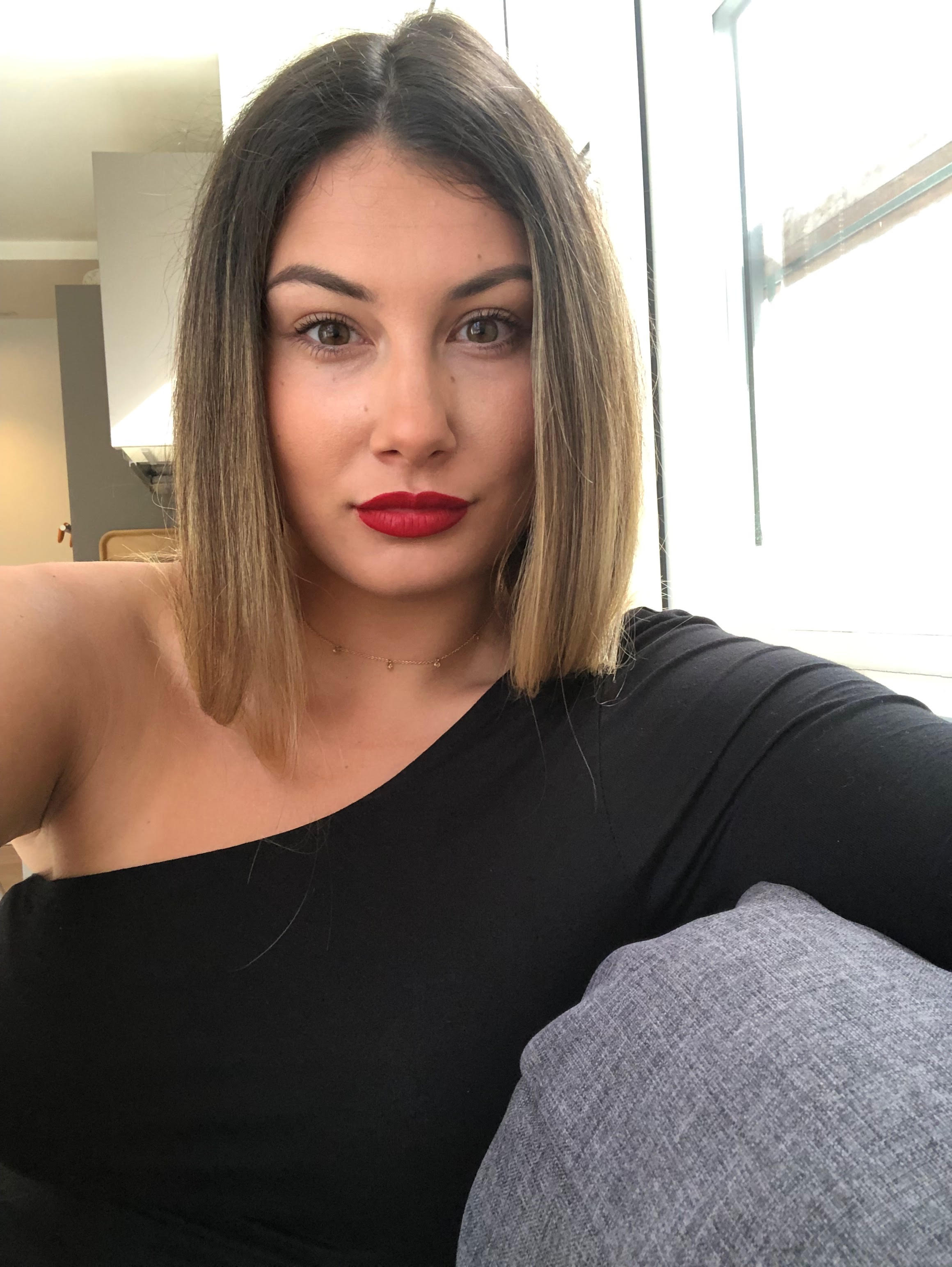 Hello, I'm Kitten E, Education & Content Manager here at KK. I'm passionate about educating people about sex in order to remove stigmas and judgment.