In this guide, sex educator Lola Jean offers the KK community some things you might want to know (and ways to prepare) before trying pegging.
Language note: This article and the terms used within are intentionally gender non-specific, as we intend for this piece to be broad in gender application. The words "penis", "cock", "prostate" and a few other anatomical terms are used with absolutely no gender specificity assigned to any term. We would like to acknowledge that not everyone with these general demonstrations of physiology uses the same words to describe their parts and that not all bodies appear the same or function in the same way. It is our intention to be mindful and inclusive of trans, enby, GNC, gender expansive, 2 Spirit, and intersex experiences as we want the information contained within to benefit as many expansive identities as possible.
We hope that you enjoy reading this article, and that it helps you to find new ways to experience and or give pleasure! We welcome feedback at editor@wearekk.com
Pegging: A Beginner's Guide
Have you ever heard of pegging? Chances are if you clicked on this post you're at least a bit curious. Matters relating to the butt tend to be kept private in certain circles, but odds are many individuals you know are regularly engaging in anal play. Anal play in general and pegging specifically can be pleasurable for all parties. Whether you're the giver or the receiver, consider this your guide for easing into the pegging rabbit hole.
What Is Pegging?
Pegging is a term that only recently came into a more mainstream, if not fully heteronormative then certainly heteronoramtive-adjacent sexual lexicon. Pegging is when one person penetrates another with a dildo, with the penetration usually (but not always) being anal. This can occur between people of any gender and with any anatomy. Nor does pegging always have to occur with a strap-on harness located at the crotch. Thigh harnesses can also be used, for example, offering a great option for anyone with limited mobility or looking for new ways to explore.
In certain demographics and from a more cisheteronoramtive perspective, there is a common misconception that pegging needs to involve particular genders and specific bodies. There's some very interesting academic writing into why this is the case, particularly in terms of the conception of the name "pegging", when this act has most likely been occurring for centuries.
Anyone can enjoy being pegged. However, it can be extra enjoyable for people with a prostate. This is because, in many instances for people with this type of anatomy the anal passage provides access to a 'g-spot' in the anus that is located roughly two inches – or to the first knuckle on an average sized finger – inside the rectum.
While pegging can be an act of dominance and submission, it can also be about simply enjoying physical pleasure. For some, pegging is a mentally stimulating activity, perhaps reversing the typical roles of penetrator and receiver. For others, it is solely physically enjoyable, stimulating the prostate (for those that have one) and/or nerve endings around the sphincter making for other-worldly pleasure not able to be achieved by genital stimulation alone. There is something to be said about an enjoyable sex act that decentres the genitals, allowing perhaps for a more expanisve exploration of what sex and pleasure might mean for you and a partner or partners when you give yourselves and each other the freedom to follow a less normative sexual script.
Besides, if there is a G-spot in your butthole, wouldn't you want to give it a whirl to see what all the fuss is about?
How To Talk About Pegging For The First Time
It can be a nerve-wracking experience bringing up a new desire to a partner/s. What if they think it's odd? What if they don't want to do it? Remember that while this desire or kink may not be new to you, it could be new to your partner and require some education and communication. There was once a time when you didn't understand pegging either, right? Whether you are a peggee hopeful or future pegger, instead of immediately approaching your person with the aim of physically engaging in pegging, try first expressing your curiosity or interest. Then, give them room to formulate their own curiosity or opinions before you suggest actually trying pegging with them.
Step One
It's best to bring up pegging – or any new sexual desire – from a neutral standpoint. I like the approach of seeding, which takes the pressure off of one person feeling like they must fulfil a certain act for another, instead allowing them to sexualise or enjoy it for themselves. Use a neutral third party – like this article, our video guide to pegging, or a KK class – as a start.
"I read in this article that pegging isn't always a submissive act – I had no idea! It kinda got me curious about how it might feel pleasurable for my body."
"Apparently, prostate stimulation feels out of this world. Have you ever been curious about that?"
Step Two
Communicate to your partner why you are interested in pegging and how you imagine it would make you feel. Whether you are watching your favourite pegging porn, talking to other KK members about their experience with pegging, or learning about it in one of our more explicit online classes, start to think about why it is that you are interested in pegging. Are you drawn to the power exchange? Do certain positions turn you on most or is it the physical sensations you are imagining?
Quit The 'Spit Or Quit'
Unlike other areas of the body, the anal cavity does not naturally lubricate itself, so you're going to need more lubricant than usual for most types of anal sex. I would recommend that you use silicone-based lubricants as they are not easily absorbed by the skin and, thus, last longer. If you are using latex condoms or silicone toys, you'll need to opt for water-based lubricants so that the condom or toy doesn't degrade from the silicone lube. Don't be afraid to have more on hand or reapply midway through your pegging session. Lube reapplication is likely going to be crucial to creating a pleasurable experience, both for reducing the risk of fissures or anal tears for the peggee and to create that ideal glide and slide for the pegger.
Pegging And Sex – Where To Start
Hold onto your dildos.There is more to pegging than lubing up and going slow.
The best way to warm up for both parties is by inserting some fingers first. By using our hands we can more easily locate our partners' pleasure zones than we can with a dildo. This gives us more information and if the person being penetrated potentially has a prostate, using your fingers may supply you with more context for its exact location. If you are trying this, aim your fingers towards the genitals until you feel something slightly harder than the rest of the material around it. Experiment with small tapping motions, moving your finger right to left or keeping static pressure on the area. After all of this tactile engagement, the engorged prostate will probably make any dildo penetration that follows more pleasurable!
Breathe Through The Butthole
It's no secret that breathing is important for sex. We can use more purposeful breathing when it comes to our sphincters, too. When we take a breath in our pelvic floor (and our sphincters) naturally engage. On the breath out, our sphincters will naturally relax. Use this to your advantage by doing any insertion on breaths out and use those breaths in to increase body awareness, directing intention to where you might like to flex or pulsate.
Pro tip: breathing together is a fantastic bonding and non-verbal communication tool
Pegging Toys For Beginners
The mistake many so often make on their maiden pegging voyage is with the incorrect dildo purchase. Typically an overeager pegger will either choose a dildo that is laughably large or the size of a baby carrot. The itty bitty tiny dildos are typically not long enough to reach a prostate and can prove equally difficult for the person doing the pegging. That baby carrot is going to slide out of your hole without you so much as realising until you perhaps feel it jamming your inner thigh repeatedly. On the flip side of the size spectrum, 'go big or go home' need not apply and doesn't inherently indicate any kind of success.
Trust me: if you are a person who enjoys anal stretching, you either know already or will soon find out.
For your first go, it is best to find a toy that does not have a large amount of girth, but enough length to more easily stay internal. About 15-16cm or more will probably be fine. You don't have to take the entire toy inside of you either, but you want to have enough room to work with, especially if you are someone with a prostate and it is located further back inside your rectum. Renee Denyer of Sh! Women's Emporium echoes the call for getting a longer dildo than you'd want inside of you as "you'll lose a couple of playable inches in the harness." For added relaxation and pleasure for the receiver you could try adding vibration either via the dildo, a cock ring, or insertable bullet vibrator that slots into the base of the dildo.
You can also explore with toys to create additional sensations for the giver, too. Some harnesses are designed with strategic pockets for external vibrators, for example, or there are strapless strap on dildos that can penetrate the giver vaginally whilst simultaneously being used to peg a lover. And of course, you can show your own bum some love with a plug or anal vibrator.
Pegging Complete
A pegging session can be as long or short as you both want it to. Pegging also doesn't have to end in ejaculation or orgasm. As queer sex educator Gabrielle Kassell puts it: "pleasure (not orgasm) should be the goal of any sex act, including strap-on sex." Typically, the butt will tell you when you're complete with the act. Listen to your butts. And if you are someone who has a prostate then whether you choose to engage in further anal play, oral, or other penetrative acts, the engorged prostate will make for a very different type of pleasure or orgasm, should it occur.
Incorporating pegging into your sexual repertoire can has the potential to aid your communication, trust, and capacity for pleasure. If there's one notion we need to put to rest it is that the back door is an exit-only zone. There is much fun to be had in the rear and it's about time we laid out the red carpet to this entryway.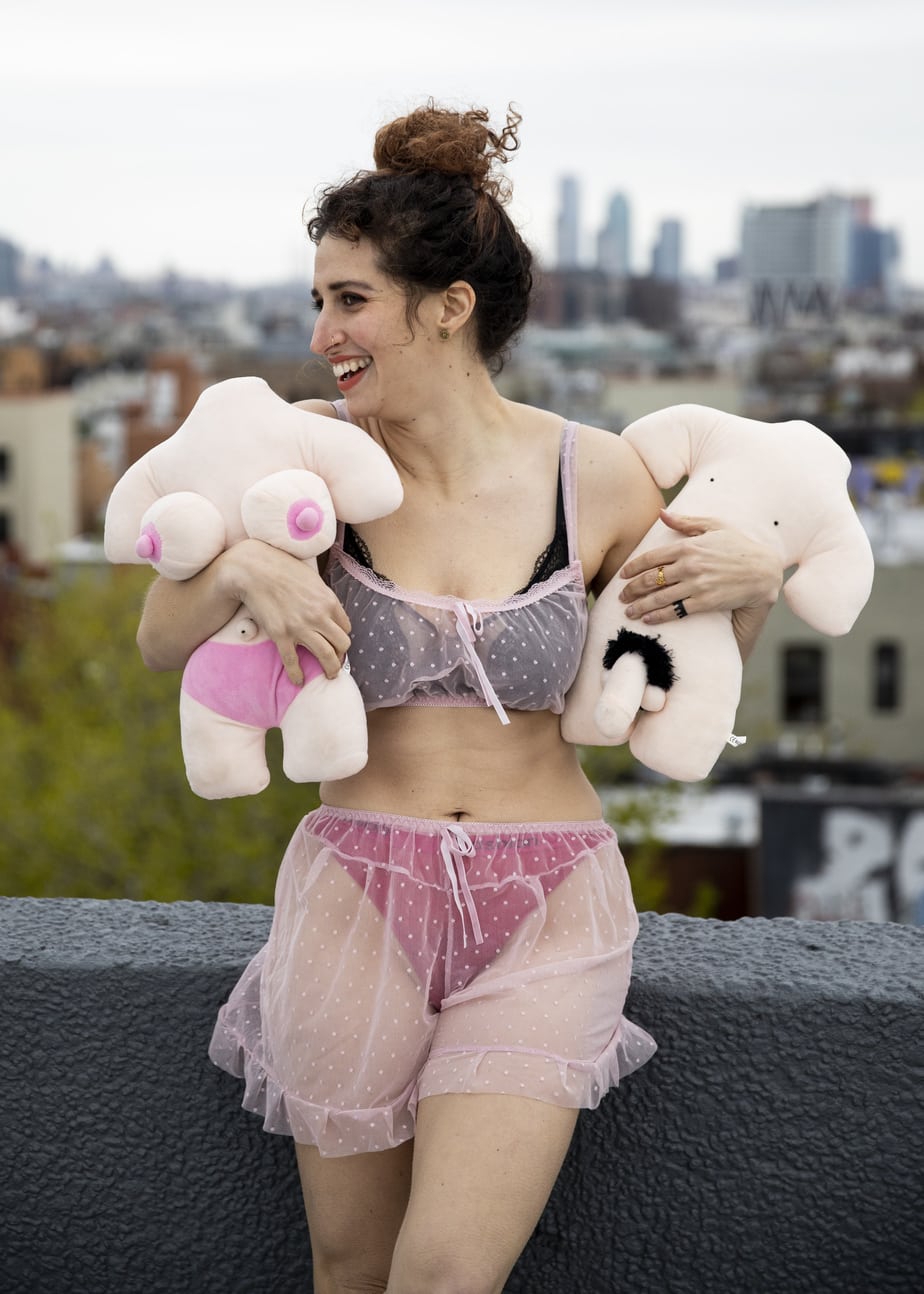 Lola Jean is a Sex Educator, Mental Health Professional, Wrestler, Pro Domme and World Record Holder for Volume Squirting (solo.) providing the No Frills Sex Education we both need and deserve. Lola brings a refreshing understanding to sex, sexuality and kink to push individuals past what they think they are capable of. There is so much we are not exploring due to fear. Fear of how society will view us. How our partners will view us. How our peers will view us. Lola helps individuals stop making excuses and unlock who they are and what they deserve.