Language Note: This article and the terms used within are intentionally gender non-specific, as we intend for this piece to be broad in gender application. We would like to acknowledge that not everyone with these general demonstrations of physiology uses the same words to describe their parts and that not all bodies appear the same or function in the same way. It is our intention to be mindful and inclusive of trans, enby, GNC, gender expansive, 2 Spirit, and intersex experiences as we want the information contained within to benefit as many expansive identities as possible.
We hope that you enjoy reading this article and that it helps you to find new ways to experience and or give pleasure! We welcome feedback at editor@wearekk.com
How To Stimulate Your Clit When Masturbating
For some people finding your clitoris is second nature. We often discover this sensitive spot at an early age, and while we don't truly appreciate what it does until we are a little older, we can fast come to love the pleasure it can bring.
The thing is, stimulating your clitoris might not come so naturally to you, and that's okay too. We're not all going to perfectly know our own bodies.
If you're still struggling to stimulate your clit, or even find it, we're here to help you unlock your pleasure. By becoming more aware of your body and how to turn yourself on, you can freely explore pleasure without limitations.
Consider us your clitoral stimulation sexperts!
Where is the clitoris?
A common misconception is that all vulvas are the same. Nothing could be further from the truth. Although mainstream media has led us to believe that our vulvas only look a certain way, there's much diversity to be found – from longer inner labia to asymmetric labia, to smaller and larger clits, our bodies are unique. You may also have different genital anatomy that you refer to as your clit.
This uniqueness can make finding our clitoris a challenge, especially if your clit tends to remain quite well hidden under its clitoral hood.
The clitoral hood is a part of your inner labia that protects the tip of the clit by covering it. Sometimes this hood is quite prominent, while other times the hood sits in a way that makes the clitoris easy to find.
llustrating The Point…
Take a look at this diagram of typical external vulval anatomy to start to get more familiar, and take a look here to learn more about the internal anatomy of the clitoris. You can also take a peek at Hillary Wilson's vaginoplasty medical illustration to gain insight into how some neo vulvas can look and function. Wilson's whole vaginoplasty series is linked here, with a note that the series contains some illustrations of surgery. This piece from Folx is an informative, illustrated look at some of the common bottom changes trans masc people may experience when taking testosterone.
Of course, every vulva and clitoris is different, and every person who has one will have different things that they particularly enjoy when it comes to touch. This is just a general guide of where you might like to explore – the real key to great clitoral masturbation is experimentation and exploration!
Getting familiar with your clitoris
Editor's Note: The following advice to look at and learn about the anatomy of your body may not be appropriate for those who experience dysphoria. If this is your experience, this list of resources from The Terrence Higgins Trust has links to services offering support and advice that you may find helpful.
Our advice? Grab a mirror and explore your vulva.
Getting up close and personal isn't just a great way to find where different parts of your vulva are, but it also helps you to appreciate just how unique it is. And while you're watching yourself explore, why not turn yourself on at the same time?
Your clit becomes swollen and harder when you're aroused. If you've been struggling to find your clit before, it may be that you can find it more easily once you're turned on. Being able to see your arousal and not just feel it can be incredibly empowering and sexy for vulva owners, and it not something that is typically encouraged or explored when it comes to sex education or representation. We highly recommend trying it.
How to tip yourself over the edge using your clit
Once you've found your clit, it's understandable that you may want to tease yourself to a heady climax. However, while you might feel ready to get going, your body might not feel the same way.
If you start to rub your clit without being wet, the chances are you're going to experience some discomfort. Touching your clitoris when you're not aroused shouldn't hurt, but it can definitely be a raw sensation.
This is because your vulva most probably gets wet the more turned on you are, with that lubrication helping to make sex more comfortable. How wet you get can vary due to numerous factors, such as where you are in your menstrual cycle, menopause, medication, etc. This is why lube is your best friend. Even if your vulva gets really wet, don't be scared to add some lube to increase your sensations further.
Why does my clit hurt?
There's several reasons why you could be experiencing discomfort, one of the most obvious being that you're highly aroused. The increase in blood flow and the swelling of your clit can cause sensations that can feel like a deep ache or throbbing. However, if what you feel becomes painful or persistently uncomfortable then an infection may be the culprit.
There's many infections and STIs that can irritate the delicate balance of your vulva, such diabetes and clitoral adhesions. There's nothing to be embarrassed about if this happens, just make sure to seek medical advice.
Different ways to stimulate your clit
Provided you're lubed up and aren't in any pain, the best way to get yourself in the mood is to take it nice and slow.
Your clitoris is a bundle of nerves, a hotspot of sensation, meaning that a delicate touch is the best way to begin. Sometimes intense pressure from the start can be fun to experiment with, but don't worry if you can't handle that. The key here is to go at your own pace.
Up and down
One of the simplest ways to stimulate your clit is to rub your finger and/or a toy up and down in a sliding action. After you become used to the sensation, you can start to play around with pressure and speed.
Make circles
Another simple technique is to circle your clit with the tip of your finger, with multiple fingertips adding a greater level of intensity and pressure. Mix it up by switching between fast and slow circles, taking the time to feel the way your body responds to the motion.
Tap it
We're not saying you have to send Morse code, but if having that visual in mind helps you get into the rhythm of things then why not! Tapping on your clit can steadily take you to the brink of orgasm, which is especially great if you're edging.
Give it a pinch
Pinching can heighten the sensitivity you experience. You can restrict then release the blood flow at a gentle, more gradual rate by pinching your clit with your fingers in a V shape, or you can introduce a clitoral clamp for a more profound effect.
Good vibrations
This one is pretty obvious, but it's still a good one to mention; if you want some intensity that can continuously change speed and pace, a vibrator is your best bet.
Suck it
In a similar way to vibrators, clitoral suction toys are a fabulous addition to solo and partnered play. The suction of these toys deliver an experience that combines tapping with the steady pulsation of vibrations. A truly euphoric partnership, we think you'll agree.
Stroke it
Particularly good for people who have larger clits or who are experiencing bottom growth, clitoral strokers such at the shotpocket sleeve from Shop Nox are a must try. Just add some lube, and squeeze and stroke the toy around your clit for some truly delicious sensations.
The Best Positions For Stimulating Your Clit
In the same way we experiment with touch, the way you position yourself can make all the difference. So make sure to give yourself some time to explore all your options. It might not give you an amazing experience every time, but at least you'll better understand what does and doesn't work for you.
If you enjoy getting yourself off while on your back, why not take a long soak in the bath while you're doing it? Positioning yourself right under the running tap or shower head creates a gentle stream of pressure that will stimulate your clit.
If that doesn't work for you, there's always the classic on your back with your bum raised off the bed, which is fantastic for when you want both clitoral and penetrative stimulation. And let's not forget the exquisite pleasure of grinding against your hand, either on your belly or up on all fours. It's delicious.
Seduce Yourself Before Anyone Else
Clitoral stimulation is an art form. Sure, you can be good at it, but practice makes perfect. If you're in the mood to discover more, there's plenty of events and workshops that can help sate your curiosity.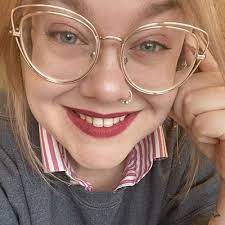 Emma (she/they) is a genderfluid writer and journalist, who specialises in LGBTQIA+, mental health, and sexual wellbeing. She also really loves sex and being able to explore pleasure in an open and inclusive way.